Calculate your solar system cost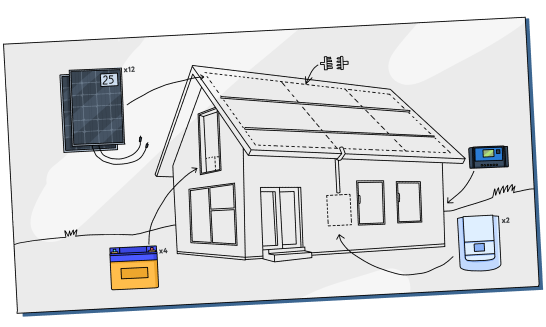 Answer a few questions to estimate your PV system cost, payback period and monthly utility savings.
What system type do you need?
These PV systems differ in efficiency, price and maintenance

On-grid
Sell excess electricity to the utility grid

Off-grid
Become independent and store energy in batteries
Hybrid
Sell excess electricity to the grid and stay independent
What battery type do you need?
The battery chemestry influences its storage capacity, efficiency and price

I don't need batteries
Works independently from the network and accumulates electricity in batteries

Lithium
Compact storage solution with 90-95% depth of discharge

Sealed AGM
Standard solution for a middle-size backup

Lead-acid
Solid energy storage at a low price
Type in your zip
We've got article that will help you to find out an isntalation area size and an calculator to calculate system size in kW
Take a peek at your ideal PV system. This solar cost calculator won't let you forget anything important. Discover how much you can save on utility bills – if you have to pay at all. The tool will also tell you how fast your PV system will pay for itself and its overall cost.
Forget about searching for products and compatibility issues with our solar calculator: choose an on-, off-grid or hybrid configuration, the type of batteries (if needed) and a desirable size from small to large. Our solar panel cost calculator will suggest the best equipment that you can buy immediately. The whole process takes less than 5 minutes.