Solar reviews
Hanwha Q CELLS
Hanwha Q CELLS solar panels review 2023: West meets East
15 Feb 2022
11 min
Beginner
Q CELLS was born as a German company that did really well until the 2010s. When things went downhill, it was bought by the Korean Hanwha Group. Now their headquarters are in Seoul, their engineers are in Korea and Germany, their factories are located in the USA, Malaysia and China. At the same time, the brand successfully competes with Chinese giants in Top 10. Let's try to uncover their secret to success – here comes our Q CELLS solar panel review.
Founded in 1999 in Thalheim, Germany

Filed for bankruptcy in 2012 bought by the Hanwha Group (Korea)


6th largest solar manufacturer
in the world in 2019

Manufacturing facilities in China, Malaysia, South Korea and the United States

Around 8,500 employees



Tier 1 solar manufacturer
While the early history of Q CELLS company was shaky, currently it is ranked as Tier 1 solar manufacturer by Bloomberg which means it is a prospering and economically stable brand. International production and offices in countries all over the globe mean that customer support will be most likely provided without any problems, whether you are in Europe, Asia or North America. The teaming of the German engineers and Korean solar experts makes the final product as modern and cutting-edge as possible. Let's take a look at what they have come up with.
Q CELLS moves technologies forward
Q CELLS engineers always try to implement innovations into their product. You can find a world record for their polycrystalline module's 19.5% efficiency in 2015 in their list of achievements. What they are most famous for is their Q.ANTUM and Q.ANTUM DUO technology.
The Q.ANTUM is an improvement on Passivated Emitter Rear Cell (PERC) technology. PERC utilizes the rear side of a solar cell: an additional layer reflects the sunlight back into the cell and allows it to convert more of light into electricity. German and Korean experts have sufficiently improved the coating of this layer, almost making a mirror out of it. In the end, with Q.ANTUM technology you get better output, improved performance in low-light conditions and at high temperatures.

Q.ANTUM DUO is the further development of this technology. Engineers started to add up to 12 busbars to improve the flow of electrons inside a panel. This resulted in 1% higher output. Using halved cells brought an additional 3% power increase. Finally, engineers have replaced PV ribbons that are used as connectors for solar cells with wires. As a result, reduced width and internal reflection decreased shading impact by a total of 75%.
Finally, Q CELLS experts took care of the possible threat of Potential Induced Degradation (PID). PID is a result of so-called stray currents: it occurs particularly often in wet weather and can lower the output of a PV by up to 20-30%. It is a serious problem as you can't detect it without special equipment. Back in 2013, solar panels of 19 out of 23 global manufacturers were susceptible to PID. Q CELLS studied the PID phenomenon closely, took preventive measures and succeeded to fully nullify the threat of PID failure with Q CELLS solar modules. The risk of hot spots development decreased too!
Q CELLS: Specifications and pricing
19%-21%
efficiency to use available space to the fullest
Q CELLS panels have energy conversion rates anywhere between 19% and 21%. These are very good numbers, though maybe not the highest in the industry. High efficiency allows you to use your space more efficiently and get by with fewer panels. Q.ANTUM DUO technology based on PERC is what guarantees a good performance of Q CELLS panels.
Panels from a Korean company come at fairly comfortable prices around $0.7-$0.8 per watt. This means that a 340W panel can cost around $250. As always, Chinese competitors, like LONGi, Trina or JA Solar, offer cheaper products. At the same time there are enough brands with much higher prices: Panasonic, REC, LG.
>85%
of rated power after 25 years in service
Q CELLS offers their customers from 12 to 25 years of product warranty. Besides, there is a 25-year performance warranty. The power output of a Q CELLS module should not drop below 98% in the first 12 months – the first year is when the panel degrades the most. By the end of the year 25 your PV modules should retain over 85% of their power, which is considered above average. However, there are brands that can do better – for example, Panasonic.
Q.ANTUM DUO technology of Q CELLS panels significantly improved the behavior of panels in different types of weather. They do well in low-light conditions: on cloudy days and in the winter. On a sunny day the irradiance of a panel is somewhere around 1000 W/m2. Q CELLS panel performance only drops to 95% when the irradiance is at 200 W/m2. What is more, the output at high temperatures is improved: temperature coefficient is at -0.36% for every degree above 109°F. The shading tolerance is also better than standard.

The panels also can be considered quite resilient: residential modules can withstand 4000 Pa wind load which is equivalent to 180 mph wind. PV modules for commercial and industrial installation are less sturdy, though, according to the datasheets: only 2400 Pa of maximum wind load (140 mph wind).
Q Cells: pros
So what's good and what's bad about Q CELLS panels? Let's look at their advantages and disadvantages separately, starting with pros:
• Good efficiency. 19%-21% conversion rate puts Q CELLS above many other manufacturers.
• One of the best degradation rates in the industry. Q CELLS panels retain over 85% of their power after 25 years.
• Improved shading tolerance, performance in low-light conditions and at high temperatures. Q.ANTUM technology improves temperature behavior of a panel and makes Q CELLS a good choice for cloudy or extremely hot areas.
Q Cells: cons
There aren't any immediate disadvantages that stand out with Q CELLS products. What we could do is just to write down a few concerning points:
• Panels for commercial and industrial installations might seem a bit fragile: 2400 Pa of maximum front load might not be enough to withstand a serious tornado or hurricane.
• Q CELLS is quite disjointed as a company – the headquarters are in Korea, some engineering offices are in Germany, manufacturing facilities are in China, Malaysia and the USA. While we foresee no complications with getting international customers support, possible complaints or returns might take longer to process.
Hanwha Q CELLS solar panels overview: for home and business
Q CELLS puts out on the market PV modules for different applications. While most of them have a simple, generic look, some models are available in all-black design. We have asked our engineer to take a look at a few models and share his opinion:

Q.MAXX-G2 – Power and efficiency for home use
Q.MAXX-G2 is best for residential installations with 345W-360W of power output and up to 20.4% efficiency. High performance is reinforced by 12 busbars in a module. The panels are protected from Potential Induced Degradation (PID) and hot spots threat. The aluminum alloy frame is certified for high snow (5400 Pa) and wind loads (4000 Pa).
Q.PEAK DUO BLK ML-G9+ — For doing business and working at home
This 132 cell solar panel is well suited both for commercial and residential applications. It provides 370W-395W output with a 20.8% efficiency. The open circuit voltage (VOC) of this panel reaches 45V. The performance in low-light conditions and high temperatures are great due to Q.ANTUM DUO technology. The panel comes with a 25/25 years product and performance warranty. Notice that the design can be different: all-black modules obviously look sharper, but heat up more on hot days.
Q.PEAK DUO L-G8.2 – Big Time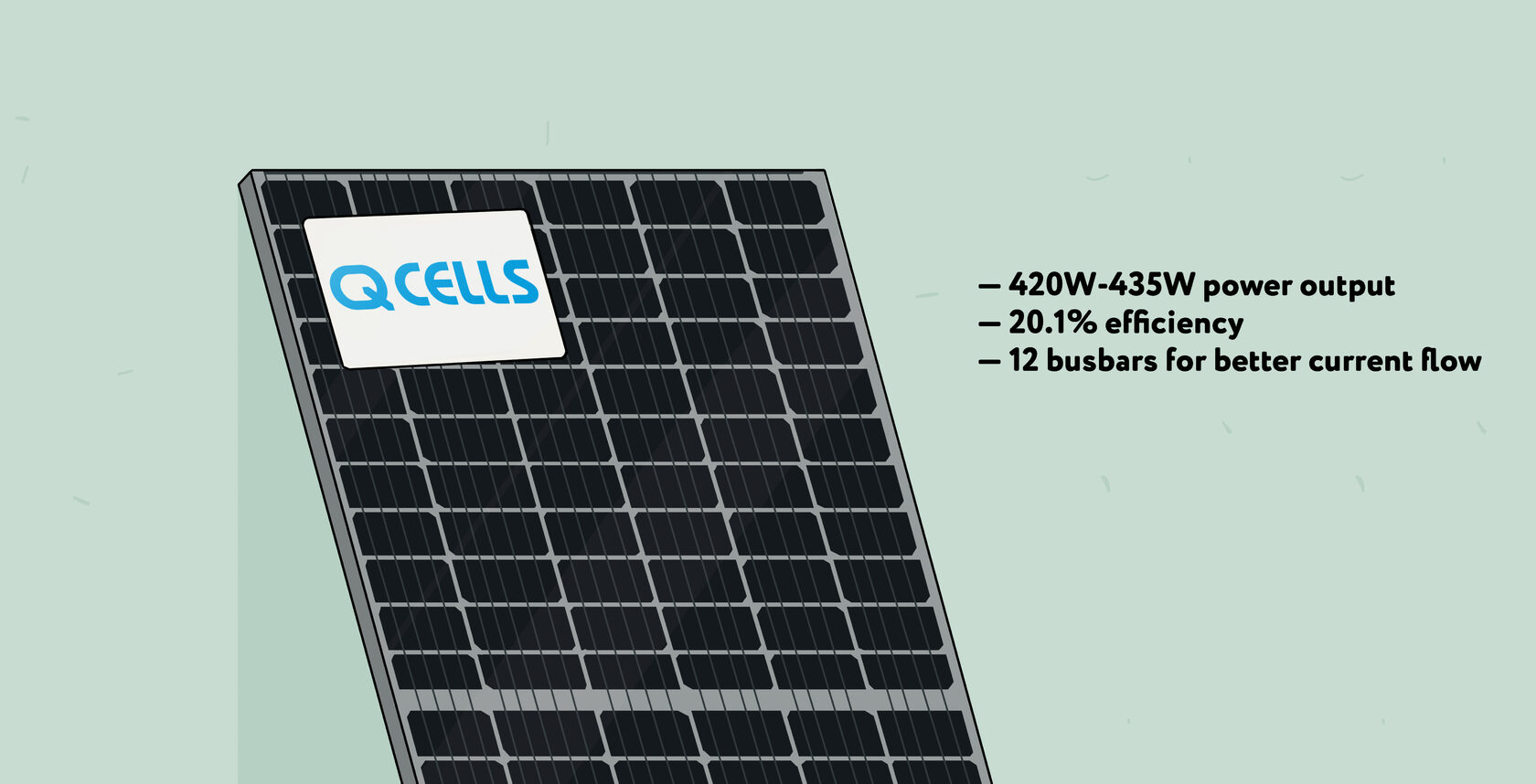 L-G8.2 is designed for commercial and industrial installations, whether it's a rooftop array or ground-mounted system. It provides a 420W-435W power output with up to 20.1% efficiency. This particular model has 12 busbars in its construction for better current flow. Q.ANTUM DUO technology not only improves the production, but the temperature behavior as well. The panel withstands 2400 Pa of wind front load and 5400 Pa of snow load. Notice that the panel is slightly heavier than usual: 55 lbs.
A1SolarStore recommends Q.PEAK DUO BLK-G6+ with a preinstalled microinverter
Q.PEAK DUO BLK-G6+ is an AC module: a solar panel comes with a preinstalled Enphase IQ7PLUS microinverter. You don't need a separate inverter for a system out of these modules – all the energy from the array is ready for your appliance or the grid. This makes the installation much simpler. The panel itself provides 340W output with >19% efficiency. The model comes with 25/25 years warranties for product and performance.
A similar option to this one would be an AC module Q.PEAK DUO BLK-G10+. These Q CELLS 360 watt solar panels generate alternating current on the spot thanks to the preinstalled IQ7PLUS microinverter. The efficiency of these panels reaches 20.1%. This model also has 25/25-year warranties for output and product and you can order it straight away if it's available.
A1SolarStore verdict: Q CELLS is a great brand
Wrapping up our 2022 Q CELLS solar panel review, let's list the focal points about the brand and their panels.
• Q CELLS is a German company that was bought by Korean Hanwha group.
• It has over 20 years of experience on the solar market and is the 6th largest solar manufacturer in the world (2019).
• Q CELLS panels are famous for Q.ANTUM and Q.ANTUM DUO technology that is based on PERC.
• Q.ANTUM serves to increase the efficiency of the module and improve shading tolerance, temperature behavior and performance in low-light conditions.
• Efficiency rates of their panels range from 19% to 21% which puts them above the average numbers in the industry.
• Q CELLS panels are middle-of-the-range in terms of price: around $0.7–$0.8 per watt.
• The company offers 12 or 25 years product warranties and 25 years performance warranties.
• Panels have one of the lower degradation rates in the industry: you end with over 85% of power after 25 years.
While we tried to be as critical as possible (to the point where we had to nitpick), it appears that Q CELLS have all the angles covered and their panels are indeed amazing. We can only strongly recommend them. With that we end our Q CELLS solar panels review and will be back with more – stay tuned.
Compare Q CELLS to other popular brands:
☀️ LG solar panels vs Q CELLS comparison: Best from Korea
☀️ REC solar panels vs Q CELLS
☀️ Canadian Solar panels vs Q CELLS
Illustrations – Marina Fionova
Stay tuned
Learn about the latest arrivals and discounts first!