PV system design
Solar use cases
Hanwha Q CELLS
REC
Trina Solar
DIY
Solar panels for garage: Workshop, charging station and more
24 Apr 2023
9 min
Intermediate
Solar energy can turn your garage into a small self-sustaining fortress. You can set up a workshop there or charge an electric car without worrying about power outages. This article is all about solar panels for garage.
Checking out garage roof: Can it handle solar panels?
One solar panel weighs around 40-50 lb
If you want to switch your garage to solar energy, you have to take a look at its roof first. A typical garage on average has about 400 ft² of extra space. That's enough to install up to twenty 400 W panels.
Not all the space of the roof is good for panels though. Ideally, you want your panels to face south if you live in the US thus you need the southern part of the roof. The best inclination for the panel is between 30° and 45°. The installation process varies depending on the type of roof that you have.
You also have to make sure that the garage roof will be able to withstand the weight of your solar system. Ideally, you need an engineer to take a look at the condition of your roof. If the roof is weak, you can reinforce it or replace it before adding panels.
Choosing system's configuration: Do you want profit or independence?
You'll also have to choose whether to connect your garage solar panels to the utility grid.
If your garage is close enough to the house and interconnection is not a problem, a grid-tie scheme is the best bet. You would export the extra electricity to the utility grid and lower your electric bill. You'll get the full benefit from your solar panels even if you don't use the garage for a few weeks. It's a simple and inexpensive option.
If you have a detached garage, you can choose an off-grid solar system instead. This way you'll avoid the labor and cost of running an underground cable, especially if the garage is far from the grid. You'll have to acquire batteries so that the garage would retain power at night or on cloudy days. If you don't work in the garage late in the day and you aren't charging an EV at night, then this battery can be small.
Planning solar system: How many panels do you need?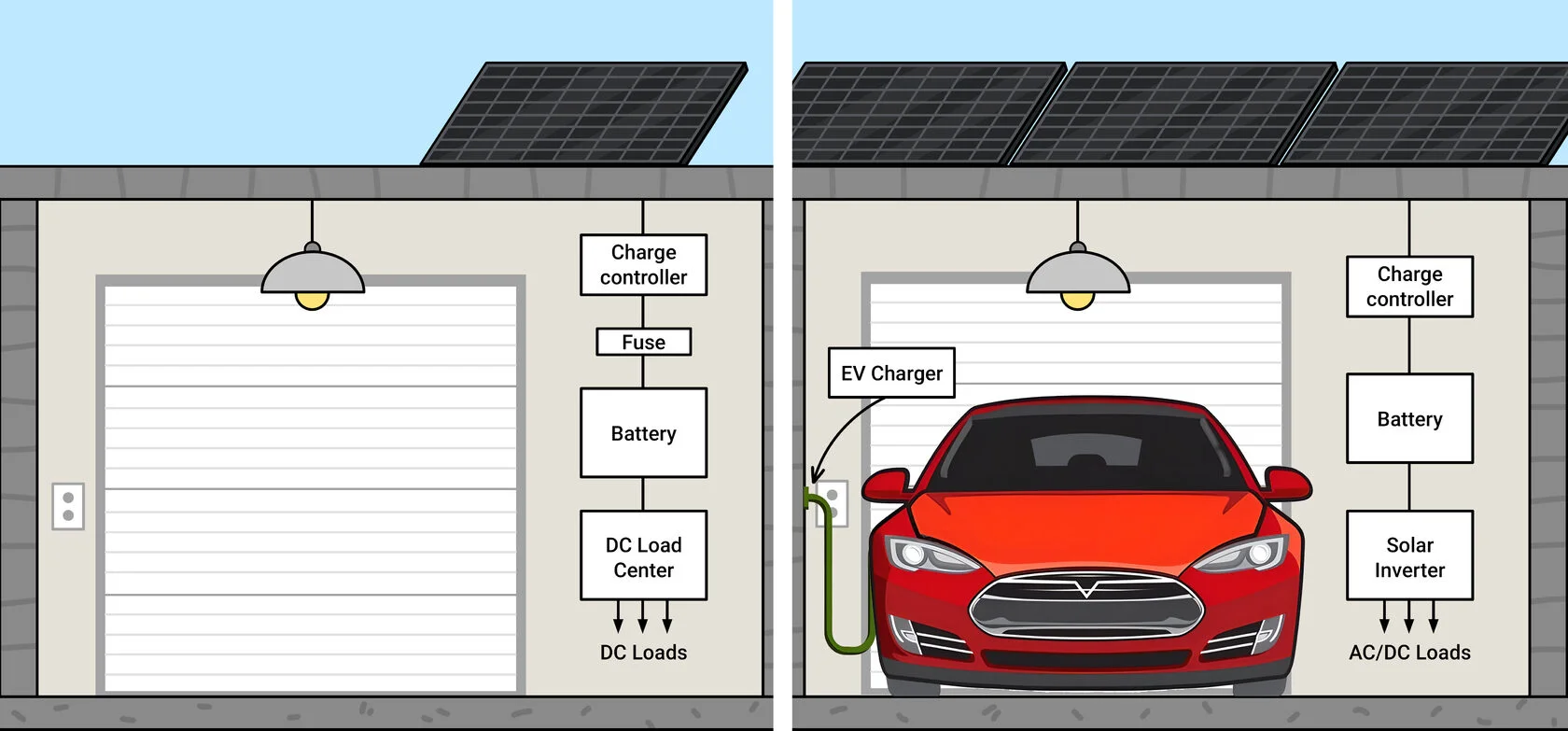 If you are building an off-grid garage PV system you'll need panels, a battery, an off-grid inverter and a charge controller. All circuit breakers are normally housed in a DC load center for easy access. A fuse between solar panels and a charge controller will protect the wires from overheating. If you plan to charge your electric car in a solar garage, you'll need to add an EV charging system.
If all you have are DC loads, you can skip the inverter. In this setup, the lights and doors will draw energy from the battery. Don't forego the charge controller — it keeps the voltage that comes from panels safe for the battery.
The right amount of solar power for a detached garage comes down to your energy consumption. If you only need solar power to keep the lights on and open doors, you can get away with a single panel. The number grows if you want to use the garage as a workshop or an EV charging station.
Setup 1: Lights and doors
Lightbulbs and the electric doors in your garage will require only 1-2 panels and a battery under 1 kWh in capacity. Let's say that the lighting is rated at 150 W. Then it would only require 1.5 kWh of energy to work for 10 hours daily. A garage door uses about 0.15 kWh per day. Standby mode accounts for 80% of this energy and the rest is enough to open and close the doors 4 times. Thus, a single 300 W solar panel can power such a garage, assuming 5 peak sun hours daily.
Both the LED lights and the garage doors can run on DC, meaning you don't need an inverter. This setup will keep the cost of solar panels for garage to a bare minimum.

Setup 2: Lights, doors and tools
Those who use their garage as a workshop will need more panels — 3 to 7 or even more, depending on what tools you have and how you use them. Let's say that John works in his garage almost every day. He needs 1,500 W for 3 hours a day and then draws 600 W for another four hours. Five 300 W solar panels can generate enough power for John, but he'll also need a large enough battery for the backup.
Setup 3: Lights, doors, tools and an EV
When you consider turning a garage into a solar EV charging station, things get more complicated. An American drives 40 miles per day on average. If he uses Tesla Model 3, then it needs around 15 kWh to cover this distance. A 3 kW system can harvest this much in a day but you would have to leave the car in a garage for the whole day to charge it. You can add more panels to speed up the charging process. You can also charge the car at night using a battery but it has to be large enough.
If you have an electric bike or a scooter, they will need fewer panels. Don't forget to add other energy needs of your garage on top while sizing a system.
Picking panels: What are the best brands?
When looking for solar panels for the garage, choose monocrystalline ones. If space is limited and energy needs are high pick the models with the highest efficiency. Another benefit would be an all-black exterior so that your garage would still look good after being converted.
We can recommend Q CELLS solar panels. This brand found the middle ground when trying to balance out the efficiency, cost and quality of their panels. With Q CELLS, you can get an inexpensive system with high-quality and well-designed panels.
Another good option is REC. The panels from the Norwegian manufacturer were always good at fighting shading. They have a wide product line: while there are expensive high-end panels like Alpha, there are also simpler models like Twinpeak.
Three best solar panels for garage
Our engineer made a list of the best solar panels for a garage based on his knowledge, customer reviews, and technical specs.
REC Alpha Pure 405 W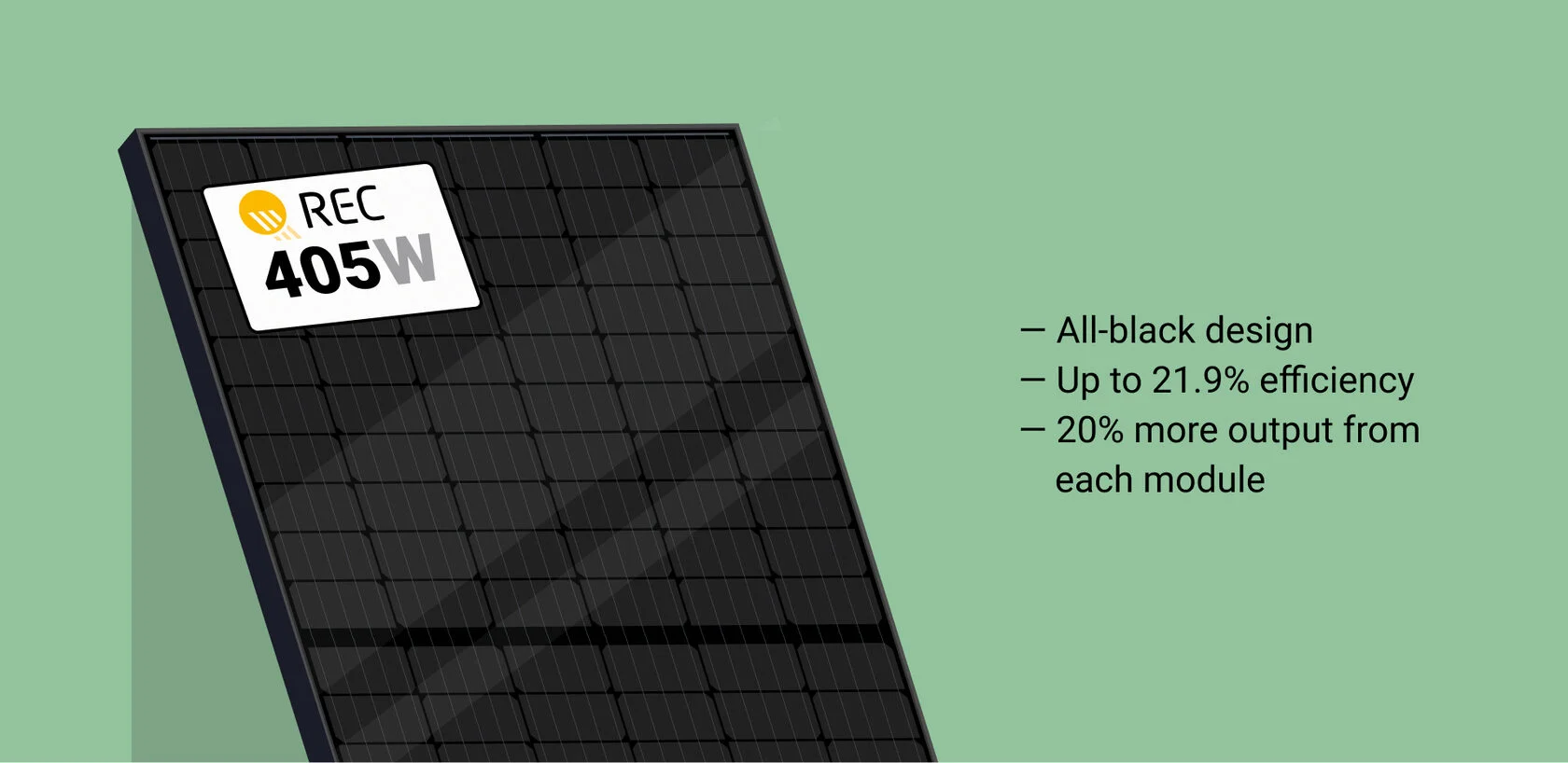 This REC solar panel has higher energy density than conventional modules — an impressive 20.3 watts/ft². The model performs better in hot weather. A 20-year product warranty will protect you against any defects. And an exceptional performance warranty guarantees almost unchanged output 25 years later — the panel will lose a mere 8% of capacity. To top it off, the panel has an all-black appearance that will make your solar garage more aesthetically pleasing.
Q CELLS Q.PEAK DUO BLK-G10+/AC 365 W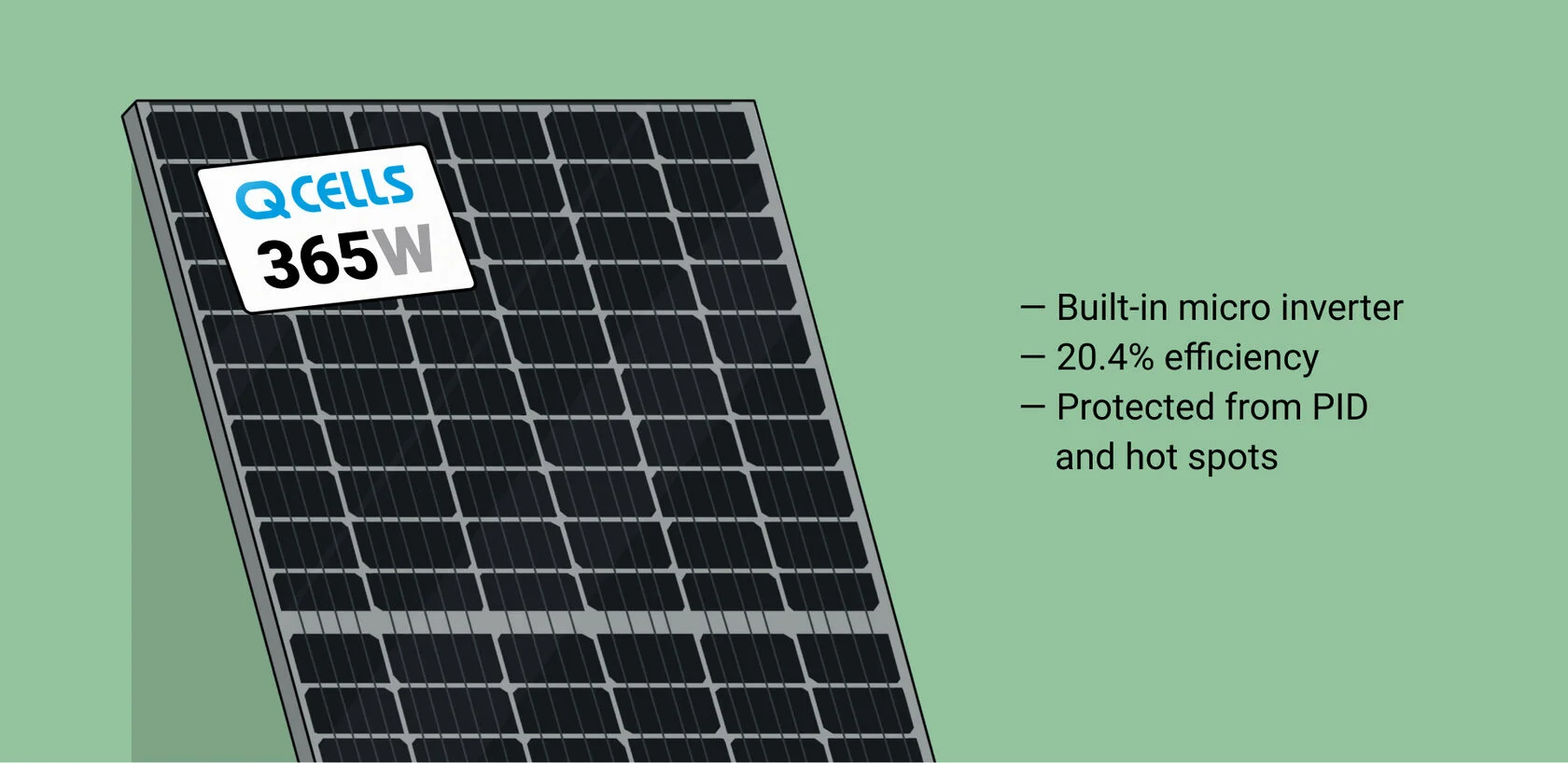 The main advantage of this Q CELLS 365 W model is the inbuilt Enphase IQ7 microinverter. It means that the modules on top of your garage will generate alternate current (AC) out of the box. This will allow you to power a variety of AC loads without sizing, purchasing and installing a stand-alone inverter. Among other reasons to look into the panel are its 20.4% efficiency, unrivaled 25-year warranties for both the product and performance and appealing all-black aesthetics with a smooth uninterrupted panel surface.
Trina Solar TSM 365 W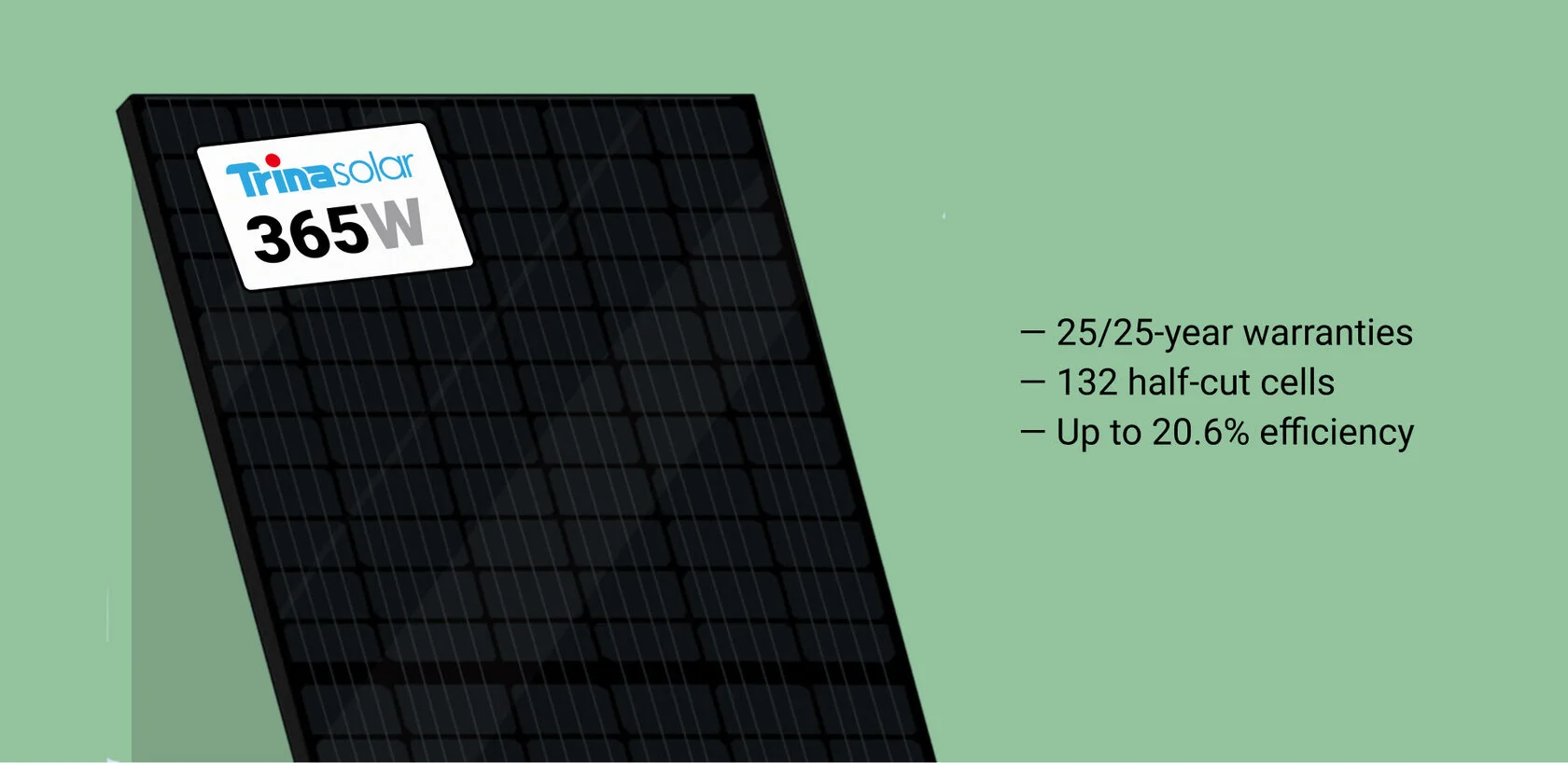 This 365 W Trina solar panel has an all-black design and it will look great on a garage roof. It withstands up to 5400 Pa load and shows improved shading tolerance. The panel comes with a 25-year product warranty which is unusual for Chinese-made panels. Performance warranty is also there: you are guaranteed to have over 84% of rated output after 25 years.
Illustrations – Natalya Absalyamova
Stay tuned
Learn about the latest arrivals and discounts first!