ZNShine Solar
PV system design
Solar use cases
JA Solar
Trina Solar
DIY
Solar panels for shed: Why, when and how
30 Mar 2023
9 min
Intermediate
A solar shed is a great way to get acquainted with solar, make your home workshop fully autonomous or cut your utility bills. A few solar panels are all it takes to turn this simple structure into a money-saving property with modern looks.
Is a solar shed worth it? Depends on what you need
When people hear the word "shed", what most imagine is a simple structure that helps protect what's inside from the elements. It could be garden tools, stuff waiting for a yard sale, bicycles and an infinite number of other objects. Some associate sheds with domestic animals, and yet for others it is a fully equipped shed workshop. All these uses have one thing in common: the need for electricity and an unoccupied roof space that can be put to good use.
A solar-powered shed needs just a few solar panels to function. This makes a PV system for this kind of project inexpensive and easy to install. Let's look at some of the reasons why building a solar shed might be a good idea:
• Taking your first steps towards solar with a small project
• Making sure your home workshop has electricity come what may
• Saving on the cabling if the shed is too far away from a conventional electricity source
In the end, whether a solar shed is worth it depends primarily on your needs. If your shed can be connected to the grid, simply laying a cable might be both easier and cheaper. But if you need energy independence or wish to reduce your electricity bill, solar is the way to go.
Planning a system: Popular solar brands for sheds
Shed is a place of endless construction works. So, choosing expensive top-notch solar panels doesn't really make sense. What you would want to go for are cheaper but durable modules. Chinese manufacturers have a lot to offer in this respect.
Trina Solar is famous for its innovations, stability and affordable prices. The company puts a certain emphasis on powerful panels of 500W and more, so you might need only a couple of them for your solar shed.
JA Solar is on the cheaper side of the market, which means bigger power output for less money. JA Solar engineers implement most of the popular modern solar technologies, like half-cut cell construction, PERC cell technology and busbars. The only weighty drawback may be a short product warranty of 12 years against the standard 25-year warranty.
ZNShine makes it into our Top 3 not only because of the price, but also innovations. Sheds are about 10 ft high, so the wind is likely to bring dust and dirt. Graphene-coated glass is designed to repel it, almost removing the need to clean your panels.
Three best solar panels for shed: Cheap, powerful, sturdy
The list of best solar panels for sheds is based on the feedback from our experienced engineer, customer reviews and our technological insight.
Vasilii Smirnov
Solar Installation Expert
When looking for solar panels for a shed, make sure they have half-cut cells. It can be hard to avoid shading with a shed solar system and half-cut cell design helps a lot in that regard.
Trina 365 W TSM-365-DE06X.05(II)
Out of stock
This module is not from the latest updates of Trina Solar product line, but it is a nice time-honored thing. Notice that it is slightly longer than a standard 120-cell panel: 72 inches instead of 65-66 inches. The panel is protected from PID, salt, acid and ammonia, withstands up to 5400 Pa positive load and shows higher shading tolerance. It comes with a 25-year product workmanship warranty, which is not something you get with all Trina panels. Performance warranty is also there: you are guaranteed to have over 84% of rated output after 25 years.
AC solar panels come with a microinverter come with a microinverter
In stock
53% OFF
JAM54-395MR is a model that uses a number of technologies to bring durability and performance to the next level. This monocrystalline module displays 20.5% efficiency. The model shows better performance in high temperatures and lower risk of hot spots due to implementation of busbars and half-cells. Half-cut cell design and three bypass diodes provide a solid shading tolerance.
ZNShine Solar 405 W ZXM7-SH108-405/M
In stock
47% OFF
ZXM7 SH108 is part of the Black on Black Series — an all-black design of a front side comes together with a black backsheet. Half-cut cell technology makes a panel more tolerant to shading. The PERC technology increases light absorption and production on cloudy days. Overall, this ZNShine 405 W solar panel is a great choice for a shed system.
Versatility vs. bare necessities: AC & DC solar sheds
One of the first choices to be made is whether you need alternate current in your solar shed or not. If all you need are a few light bulbs and a heater in winter, direct current is your best bet. Solar panels generate DC, and if it can power all of your loads, it means you don't need an inverter. This system must have a battery and a charge controller though. If you wish to use electrical tools in your solar shed, you need to plan for an AC system.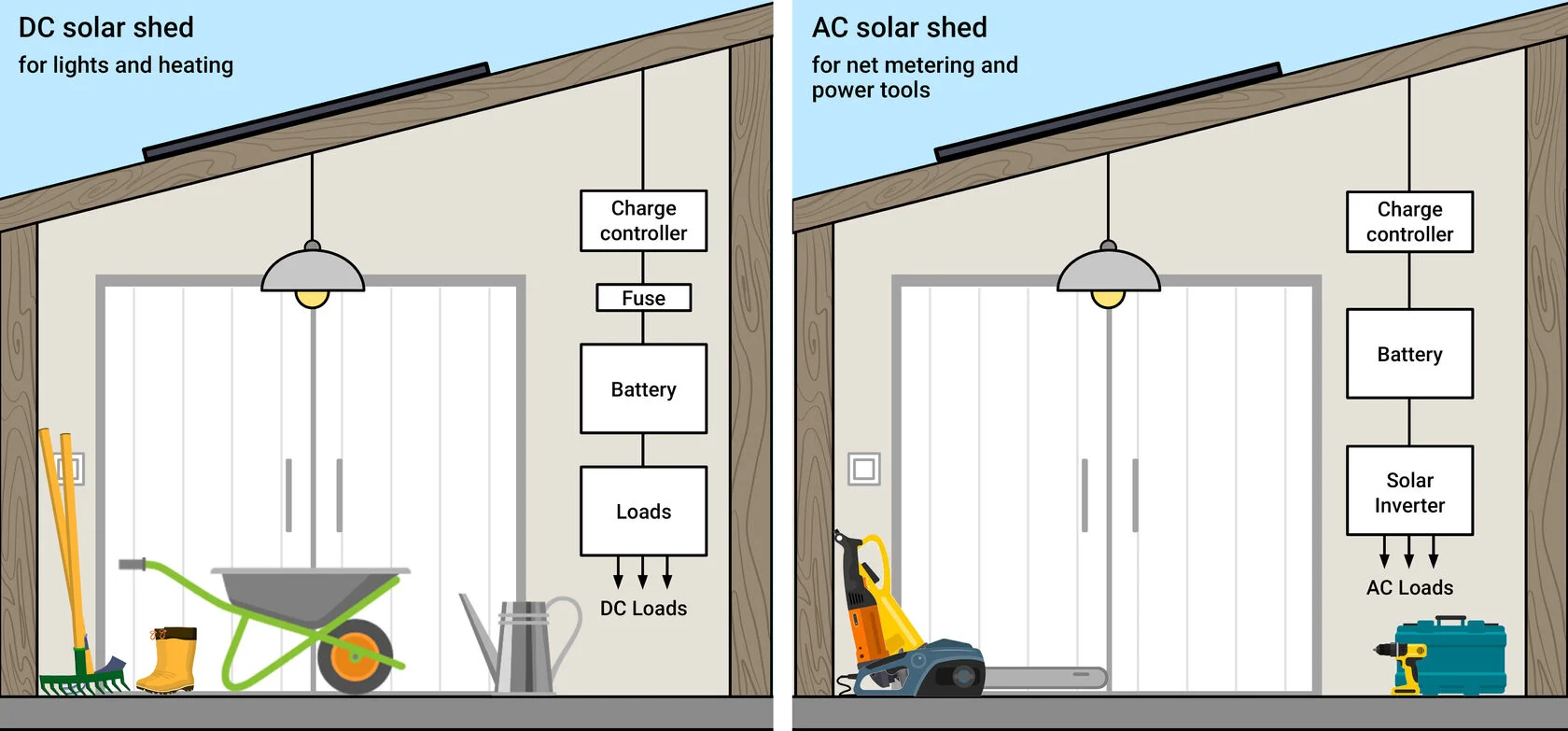 An island of stability: Building an autonomous solar shed
Vasilii Smirnov
Solar Installation Expert
If you have some DIY experience and know your way around electrical systems, you can convert your shed to solar yourself. If you have any doubts, choose a solar system from the catalog and I'll customize it to your needs.
40-50 lb
the average weight of a solar panel
Solar panels go on the roof of the shed, so pay attention to its orientation and condition. Your solar-powered shed will be more efficient if the panels are facing south. East and west are second best, but you will still lose around 15% of energy output. As for the condition of the roof, make sure it is capable of supporting the weight of solar panels you're planning to install.
Solar inverters, charge controllers and breaker boxes are typically fixed to the wall, so make sure it can bear the weight and reinforce it if needed. You can also build a box for the batteries to give them an extra layer of protection and make your shed more neat and orderly. After that, everything is ready to make solar power for shed a reality.
The installation process varies depending on the configuration of your system and whether you are building a DC or an AC system. If you want to have a grid-tie system, you can follow our guide on how to install solar panels at home. With a shed, the process is going to be similar.
Here is the installation process for an off-grid shed solar system can look like:

1. Attach an inverter to the wall or another designated space. Connect a battery bank to a charge controller following the instructions in the user manual. Connect the charge controller to the inverter. The inverter is wired together with an electrical panel.
2. The electrical panel needs to be properly ground. For that, insert a small grounding rod into the earth next to your solar shed and wire it to the electrical panel.
3. All the wires on the wall should be encased in heavy-duty conduit, preferably metal. The conduit should go right through the roof, and an electrical box should be installed where it exits.
4. After making sure the roof is sturdy enough, you can proceed with installing the solar racking and then mounting your panels.
5. Wiring it all together is the last step. Simply connect solar panels to the wires you ran through the conduit earlier.

Illustrations – Natalya Absalyamova
Stay tuned
Learn about the latest arrivals and discounts first!