Solar reviews
REC
REC solar panels review 2023: Premium-class solar
26 Feb 2022
13 min
Beginner
When it comes to the most exquisite solar panels, REC should always be mentioned in the conversation. This is a highly respected, probably the most famous European brand with two decades in the business behind its back. Their panels are known to be impressively well-made and sometimes impressively expensive. Let's look at them closely – here comes our REC solar panels review.
| Founded in Norway, 1996 | Around 1300 employees | Manufacturing facilities in Singapore |
| --- | --- | --- |
Don't confuse the Norwegian solar manufacturer with an American solar installer – they share the same name.
REC introduced half-cut cell technology to the industry
Norwegian brand is well-known for half-cut cell technology which its engineers introduced in 2014 with their TwinPeak panel. At that point most solar panels had 60 or 72 cells. REC engineers used lasers to split solar cells in half, doubling their number. Since then, half-cut cell technology has been adopted by other solar manufacturers.
Using half-cut cells essentially means:
• Better production. By cutting solar cells in half engineers managed to lower resistive losses. This improved the overall output of a module.
• Longer lifespan. Half-cut cell design provides better protection against microcracks and hot spots development. As a result, the panel lasts longer.
• Higher shading tolerance. Every panel is now split in two halves. If one of them gets shaded, it doesn't affect the other one.
• Higher cost per Watt. Half-cut cell technology increased the price of modules, since the manufacturing process became more complicated.
Alpha series are the most advanced REC panels
REC engineers continued to build upon half-cut cell technology, perfecting and improving their modules. The latest result is their Alpha series which boast a number of features.
Heterojunction technology
Solar cell is encapsulated in layers of thin-film silicon to reduce power losses at the boundaries of a cell. The idea is similar to Panasonic HIT technology. This significantly improves the performance of panels in hot conditions and makes REC panels a great choice for hot areas – Arizona, for instance.
Advanced cell connection
Engineers increased the number of wires to improve the flow of current inside a panel. The risk of cell damage and microcracks development is lower, power losses decrease, and the panel lasts longer. Wires themselves are barely visible which makes the look of a cell more uniform.
Twin panel design
A panel not only comes with bypass diodes, but also is split in two halves which gives improved performance while shaded. The halves function independently from each other – they are like two small panels that are wired in parallel. When a cell in one half gets shaded, it doesn't affect the other half, like in standard modules.
REC: Efficient, durable, reliable
Let's look at specifications of REC panels to start. The brand has quite a diverse product line and panels do differ from each other in terms of power, durability and aging speed.
When it comes to efficiency, we can see that it ranges from 18.6% all the way up to almost 22%. In fact, REC Alpha series panels are among the most efficient on the market with their energy conversion rate reaching 21.9%. High efficiency means that you need less space for a powerful system and can get by with fewer modules. It is especially important when there is not a lot of room to work with – for example, on a boat or RV.
From $0.6 to $1.3 per Watt
REC has gained a reputation as a company with expensive panels. While it can be true, the product line of the brand is diverse enough that you can find very simple, but still high-quality models for $0.6 per Watt. The most advanced and powerful modules, however, reach high prices like $1.3 per Watt. That puts REC on the same level with LG and Panasonic when it comes to cost.
Our customers often praise the quality in their REC solar panels reviews. Panels look expensive, they say, they don't seem flimsy or sloppily-made. Modules undergo third party testing which decreases the chance of a bad item going for sale. The REC product in fact has a very low claims rate: on average, only 1 out of 10,000 panels malfunctions. Reputation for high quality is only reinforced by warranties that REC offers.
25-year 
ProTrust Warranty for systems installed by REC
Most REC panels have a 20-year product warranty and 25-year performance warranty. However, some models are eligible for 25-year REC's ProTrust Warranty that covers product, performance and labor. The system must be under 25 kW in size and installed by REC professionals to receive ProTrust warranty. Systems that are 25-500 kW in size have the same warranties for product and production, but only 10 years for labor.
Degradation rate of REC panels depends on the model. The most simple models that are still for sale lose around 0.7% per year which is completely average. They retain around 80% of their output by the time when warranty runs out. However, Alpha series panels lose only 0.25% per year and after 25 years in service retain over 92%. These power losses look lower than they are with almost any other brand in the industry, except maybe Panasonic.
Up to 7000 Pa of maximum front load
The Norwegian brand also displays good numbers when it comes to weather resistance and performance on cloudy days. Modules from Alpha series can withstand 7,000 Pa mechanical load – one of the highest rates in the industry. Such a panel can endure 250 mph wind – most tornadoes and hurricanes are not a threat to it. Simpler REC panels, especially the ones that are designed for commercial installations, are less durable: around 2400 Pa of maximum wind load (140 mph wind).
All REC panels show amazing performance even in low-light conditions – in clouds and in the winter. On a sunny day the irradiance generally is around 1000 W/m2. According to datasheets of REC panels, even when the irradiance decreases to 200 W/m2, they still retain 95% of their performance.
REC: pros
To help you understand the strong and weak sides of REC panels, let's break down their advantages and disadvantages in a small list. Let's start with pros:

• High efficiency. Energy conversion rate of REC panels is higher than average. Alpha solar panels can reach 21.9% efficiency – it doesn't really get a lot better than this yet.
• High quality. REC panels undergo third party testing, they are backed by strong warranties and their failure rate is 1 in 10,000.
• Great warranties. The 20 year product warranty that REC offers for every panel is already better than average. Triple 25 year ProTrust warranty for certain models is amazing since it covers product, performance and labor.
• Low degradation rate. Alpha REC panels lose only about 0.25% of their power annually and after 25 years they still retain over 92%. However, other REC models age faster — their degradation rate is close to the average in the industry or slightly better.
• Diverse product line. REC has panels for all types of applications, cheap and expensive models, all-black modules and standard-looking panels.
REC: cons
However, mentioning only good things about solar panels would be unfair to our customers. So here are the weak points about REC panels that we see:
• REC solar panels prices can be high. While some models fit even a modest budget, others can reach the cost of 1.3$ per watt. This puts REC next to LG and Panasonic in the list of brands with the most expensive panels.
• There are no modules beyond 450W in power. While the product line is diverse enough, REC panels might be considered limited in power output. Right now 450W is the highest number that you can get. While REC panels are great for residential and commercial projects of a medium scale, for building solar farms you might be better off with panels from Trina Solar or JA Solar.
REC solar panels overview: home, business, Alpha
Let's pass on to the actual panels that REC put out on the market. We've asked our engineer to take a look at three models for different applications and share his opinion on them.
REC TwinPeak 3 – Stylish home choice
This is one of the most simple, inexpensive and still high-quality solar panels for home systems in REC's product line. TwinPeak shows improved shading tolerance because two sides of a panel are made independent of each other. The performance in low-light conditions is great! The module is fully protected from Potential Induced Degradation (PID) which can cause 20-30% power losses in wet weather. Degradation rate with this one is pretty generic though: after 25 years you end up with around 80% of rated power. The model is eligible for triple ProTrust warranty.
REC TwinPeak 2S – This one's for making money
This TwinPeak 2S module is a high-output panel designed primarily for commercial systems. It's fairly light for a 144-cell panel: only 48.5 lbs or 22 kg. Good efficiency (though not the best for REC) allows you to make good use of installation space. Shading tolerance is also improved which is nice for systems of a large scale, since it's hard to avoid shading when there are so many panels. The REC 365W solar panel can also be found in our shop as a variation of this model and you can order it straight away if it's available
REC Alpha HJT – Feeling Alpha
We passed onto the Alpha series and you can immediately see the difference. This is a 360-380W 120-cell panel that is well-suited both for residential and commercial installations of a medium scale. The efficiency is much higher: with this model it goes up to 21.7%. Heterojunction technology makes the panel a great choice for hot areas. Degradation rate is amazingly low – only 0.25% power loss per year.
The manufacturer claims that overall you get up to 20% more energy with Alpha than with conventional modules. The frame is reinforced so it is capable of withstanding the pressure of 146 lbs/sq ft. This amounts to 250 mph wind: basically, the panel is ready for any kind of tornado or a hurricane that is coming its way.
A1SolarStore recommends REC Alpha Pure black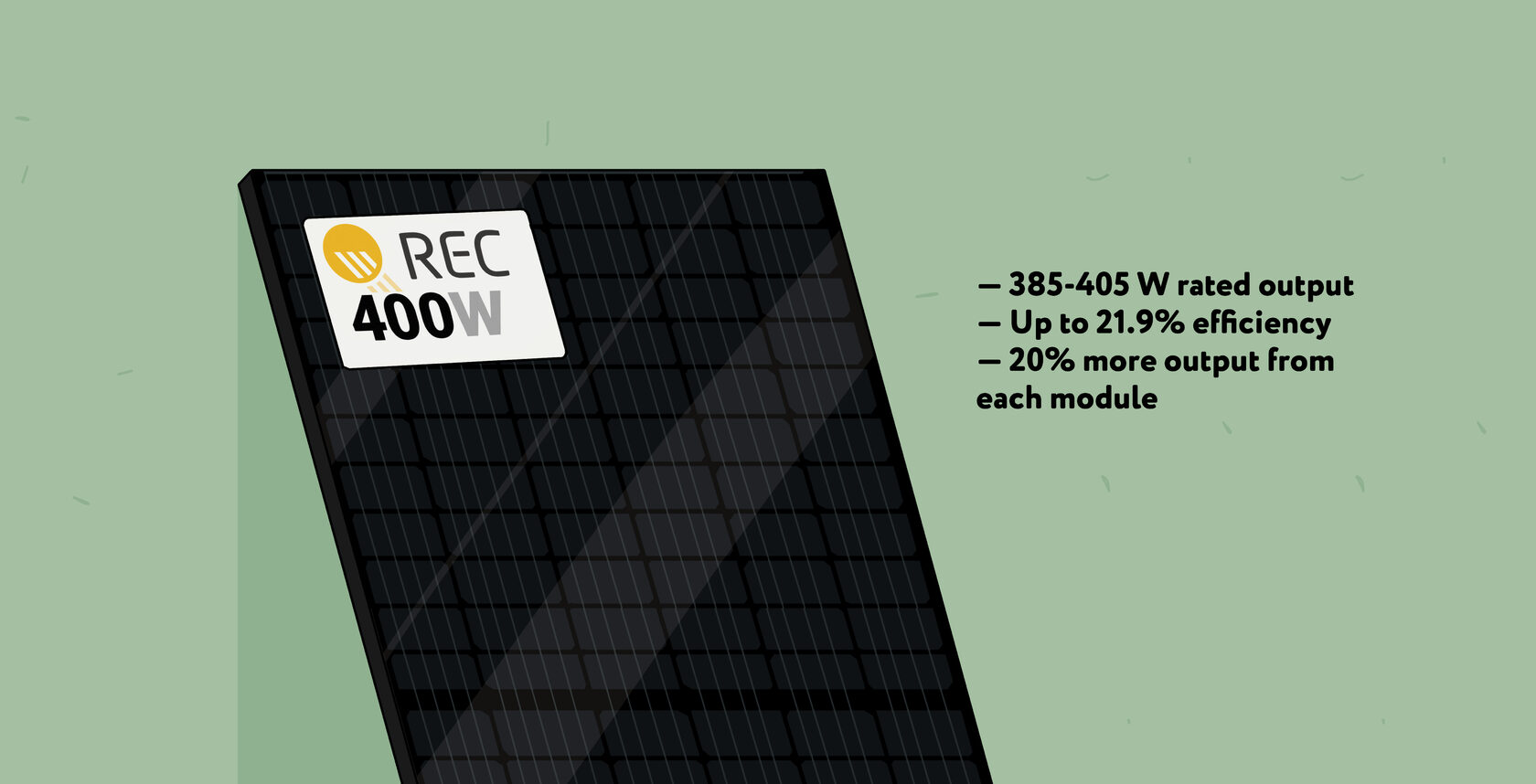 Welcome REC 400W Alpha Pure black – an amazing 132-cell solar panel for commercial and industrial-size installations (though you can put it on your house rooftop as well). The efficiency of these panels is as high as 21.9%. High power density allows you to use your space to the full extent – this particular module gives you 20.1 W per square foot.
Heterojunction cell technology ensures great performance at high temperatures. The panel loses only 0.25% of its output annually and retains 92% of its production after 25 years. The module is eligible for triple 25 warranty for labor, performance and product if you use REC installation services. Even the design is superb! The only real downside is the high price which gets over $1 per Watt. You can also find the REC Alpha Pure 405W panel in our store which is a variation of the same model.
Our verdict: REC is an amazing brand
Time to round up our REC solar panel review. Let's summarize what we've learned so far about REC brand and their panels:
• REC is a European brand: the headquarters are in Norway, but their production facilities are located in Singapore.
• REC engineers introduced half-cut cell technology in 2014.
• Their panels are very high quality: the failure rate of their panels is 1 in 10,000.
• The brand offers a 20 year product warranty and a 25 year performance warranty. Some models are eligible for triple 25 ProTrust warranty that covers labor, product and performance – you have to use REC installation services to get it.
• The efficiency is strong side of REC panels and ranges from around 19% to 21.9%
• Prices vary greatly: you can find affordable simple panels for $0.6 per watt and very expensive, but super modern models for up to $1.3 per Watt.
• REC Alpha series is the most advanced in their product line. These panels offer the highest efficiency and better tolerance to shading and high temperatures.
• Panels from Alpha series have a very low degradation rate: only 0.25% power loss per year. The module retains 92% of the output after 25 years in service.
• Alpha series panels also show amazing endurance: they can withstand 7,000 Pa load which is equivalent to 250 mph wind.
REC is a good brand and Alpha series is just great – a little pricey though. We see no reason not to recommend REC's products with its amazing efficiency and high quality. With that we end our REC solar panel review 2023 – check out the Norwegian panels in our store for yourself!
Compare REC to other popular brands:
☀️ REC solar panels vs Sunpower
☀️ REC vs Panasonic solar panels
☀️ REC vs Tesla solar panels
☀️ REC solar panels vs Q CELLS
☀️ REC solar panels vs Silfab
☀️ REC solar panels vs LONGi Solar
☀️ REC vs Canadian Solar panels
☀️ REC solar panels vs Solaria
☀️ REC solar panels vs Aptos Solar
☀️ REC solar panels vs Jinko Solar
☀️ LG Solar panels vs REC: Who's better?
Illustrations – Marina Fionova
Stay tuned
Learn about the latest arrivals and discounts first!