Solar reviews
Mission Solar
Mission Solar panels review 2023: Feels like home
07 Feb 2022
10 min
Beginner
Chinese solar panels dominate the market and it's hard for other countries to keep up. However, when some brand manages to make a competitive product, it's always a pleasure to examine it. Especially when it's made by your countrymen: we've got our hands on American PV modules from Texas this time! Let's look at them together and discuss their strong and weak points – here comes our Mission Solar panels review.

Founded in 2012 in
San Antonio, Texas

Around 100
employees


Over $30 million
in sales
Mission Solar is a fairly young company in the business that hasn't had time to make a big name for itself. We have to see what the future holds for the brand, but it's nice to see American manufacturers doing well on the solar market. Despite being a small-scope manufacturer, Mission Solar already collects lots of positive reviews about their product. Now let's look at the specifications of their panels closely.

Mission Solar panels: You always get what you pay for
Mission Solar claims to make panels for residential, commercial and utility-scale use. Their PV modules can be used for RV and boat installations as well.
The efficiency of Mission Solar panels can be considered a weak spot of their product and leaves much to be desired. It ranges from 18% to 19.5%, depending on the model. These numbers aren't straight up bad, but it's nowhere near the top rates of Chinese competitors. However, Mission Solar engineers have incorporated busbars and PERC (Passivated Emitter Rear Contact) cells into their product which at least shows a lot of promise: the company is willing to use modern technologies to make their photovoltaics as competitive on the market as possible.
Perform in the real world even better than under test
However, quite a lot of Mission Solar panels reviews praise the quality of their panels. Indeed, according to the company's engineers, every module undergoes rigorous testing and thorough examination before it's shipped. Notice the power tolerance of every model: -0/+3%. It means that a panel performs in real world conditions just as well as it does under Standard Test Conditions or even up to 3% better. Evidently, with Mission Solar you at least always get what you pay for.
Withstand 210 mph wind or category 5 hurricane
Mission Solar panels show great resilience: 40mm aluminium frame makes panels strong enough to be able to endure 5600 PA front load and 4800 back load. In other words, these PV modules can withstand 215 mph winds. After all, Texans know what a good tornado is and they made sure that their panels are prepared for it.
The prices for American-made panels are very affordable: around $0.70-$0.80 per watt. Overall, Mission Solar PV modules can still be considered budget-friendly, middle-of-the-price-range solar panels. Chinese modules are cheaper and even Canadian Solar prices are just a bit lower, but Mission Solar makes up for it by bringing great quality.
Over 81%-84% of rated power output after 25 years

The standard product warranty for Mission Solar panels is 12 years which can be extended to 25 years for some panels. On top of it the company issues a 25 year performance warranty. After 25 years in service PV modules should retain around 81%-84% of their initial power output. The extension option for product warranty is certainly nice and overall Mission Solar warranties look alright for the industry. Degradation rates could certainly be lower though.

Since Mission Solar is a USA-based company, it should be easy for American citizens to receive quality customer's support and discuss the warranty conditions and terms, if needed. The product undergoes a series of tests before it goes out, quality reviews look good and overall we see no reasons to worry about possible issues with Mission Solar panels or with getting warranty support.

Mission Solar: pros

We've covered a lot about Mission Solar panels already. To simplify the data and organize it better, let's list down their advantages and disadvantages, starting with all the positive things.
• High quality. Panels undergo a series of tests and quality checks and so far they collect positive reviews.
• Affordable pricing. $0.70-$0.80 per watt puts Mission Solar in the middle of the industry price range.
• Great durability. Panels can withstand 5600 Pa front load which makes them great for areas where extreme weather conditions are a problem.
• Positive power tolerance of -0/+3%. Panels perform at least as good as promised.
• Good design. While some models may look simple, others prove that Mission Solar engineers care about the appearance of their product and try to make it look modern and cool.
• American production. Say what you want, but it is nice to know the product that you use was made by the people you live and talk with.
Mission Solar: cons
While the advantages of Mission Solar panels are numerous, the cons also have to be listed down.
• Low efficiency. 18%-19.5% conversion rate is fine by itself, but Chinese panels do more in that regard.
• Average degradation rates. A Mission Solar panel generally loses around 0.7%-0.8% of its power annually. The numbers don't look too good – there are several brands which can do better.
• Shallow product line. Currently Mission Solar has only three models to offer on their website. Hopefully, this will change as the enterprise develops further.
The disadvantages of Mission Solar production may come down to the fact that it is still a young company that still undergoes the process of development. The brand was created in 2012 so in 2022 they'll celebrate a decade in business. However, this is a short time when compared to someone like Panasonic with 50 years of experience. Bumpy early years are most likely behind, and hopefully, the company will continue to grow and enhance their product and service.
Mission Solar panels overview: home and business
As usual, we've asked our engineer to take a look at what Mission Solar actually makes at its factory in Texas. Here are three models that are the frontrunners of Mission Solar entrance on the solar market. 

MSE PERC 60 WHT – Simple choice for your home
This is the simplest panel for residential use that Mission Solar offers. A 60 cell white back sheet PV module with a 325 Watt power output is engineered with PERC technology, which improves the energy harvest of a module. Multiple quality checks and stringent reliability testing ensure that the customer gets a product that will last for decades.
MSE PERC 72 – Time for business
This particular model is best suited for commercial and utility-scale installations. The look might be a little generic, but the panel does provide a lot of energy – from 405W to 425W, depending on which one you choose. It features PERC technology and five busbars to provide >19% module efficiency.
Mission Solar 415W Solar Panel 144 Cell – The look and the power
MSE PERC 72 provides commercial solar-level power output, but at the time looks amazing. It's ideal for all applications. The module shows 18.9% efficiency, has 6 busbars in its construction as well as PERC cells. This particular model has a better degradation rate than other Mission Solar panels: the module loses only 0.58% of its output annually so you end up with about 84% of its rated power in the year 25.

A1SolarStore recommends Mission Solar 345W Solar Panel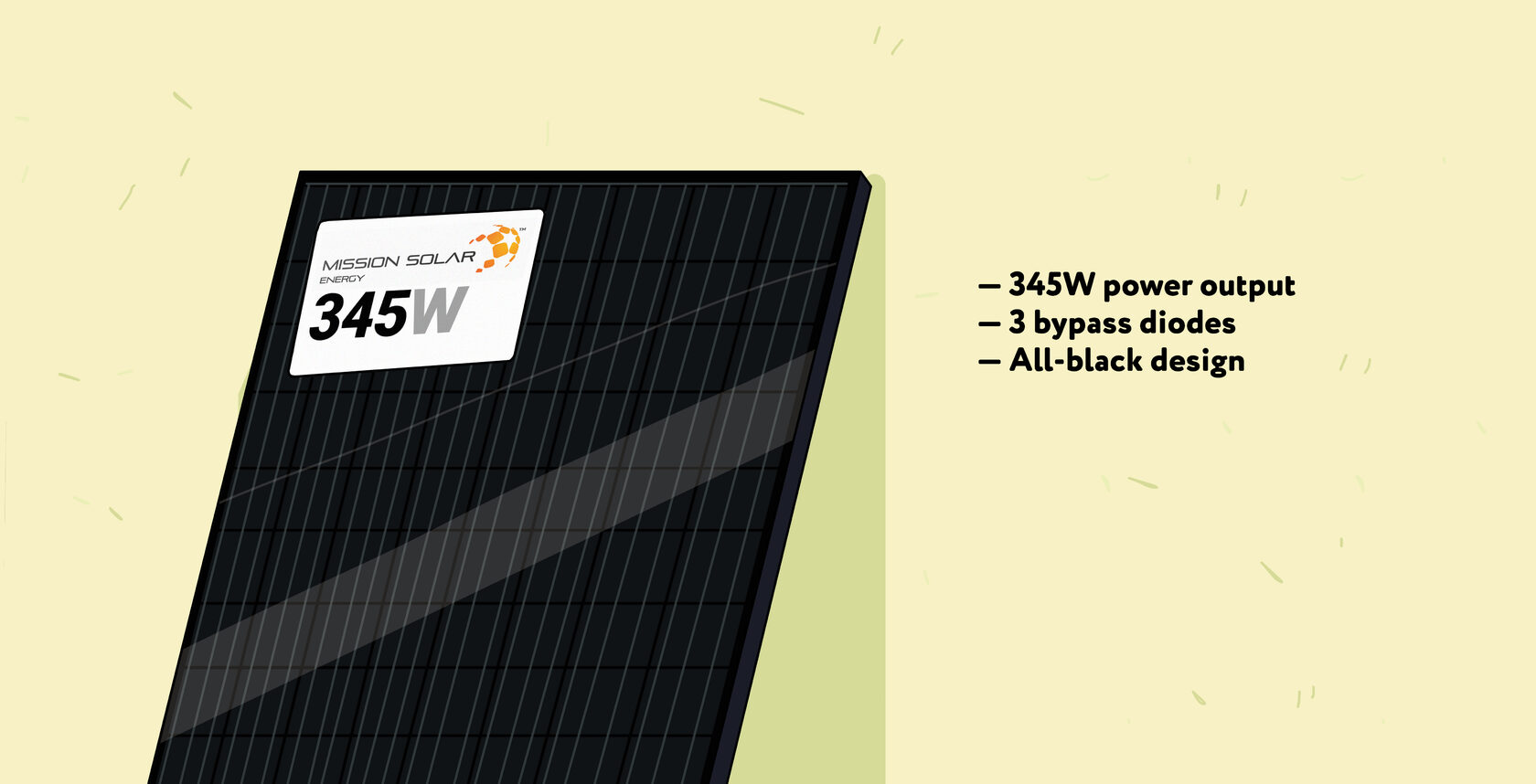 An MSE PERC 60 module is great for a home system. It always provides good power output with power tolerance of -0/+3%. Notice a great all-black design: the module is going to look fancy on any roof. The module offers 18.7% efficiency. PERC cells increase the energy harvest of a panel, 6 busbars in construction improve the flow of electrons inside the module. The panel comes with 3 bypass diodes that minimize the impact of shading. Anodized aluminium 40mm frame improves the resilience of a panel. It can withstand 5600 Pa front load which makes it a great choice for the area where natural disasters are not only a possibility, but a reality. Currently we offer this model for $256 per item.
Out of stock
A1SolarStore verdict: Time will tell
Let's wrap our 2022 Mission Solar panels review by listing the key points:
• Mission Solar is an American company, founded in San Antonio, Texas, in 2012
• So far the product line is small: three models for residential, commercial and utility-scale use.
• The efficiency of panels is relatively low: from 18% to 19.5%.
• Customers praise high quality of panels.
• PV modules have positive power tolerance -0/+3% – panels perform just as well as during testing or up to 3% better.
• Mission Solar are relatively inexpensive with around $0.7–$0.8 cost per watt.
• Panels have great design and are very durable.
We can see that Mission Solar products lack in important aspects, like efficiency, degradation rates, diversity of product line. So far there are brands on the market that can do the same things Mission Solar does, but better-stronger-cheaper. However, Mission Solar is still a young company and we are glad to admit that it shows a lot of promise. Their panels have great potential, already receive a lot of positive feedback and we're sure that they will become better and better. On that note we end our Mission Solar panels complete review – and we'll be back with more of these.
Compare Mission Solar to other popular brands:
☀️ Mission Solar panels vs SunPower
☀️ Mission Solar panels vs Silfab
☀️ Panasonic solar panels vs Mission Solar
Illustrations – Marina Fionova
Stay tuned
Learn about the latest arrivals and discounts first!