Solar reviews
SunPower solar panels review 2023: Maximum efficiency
10 Feb 2023
12 min
Beginner
Stories of big companies that start with one scientist conducting experiments in a lab are special. They are inspiring in how they prove the importance of creativity, hard work, and devotion to the craft. The story of SunPower, the manufacturer of the most advanced PV modules in the world, is like this. Learn more about the brand and its product in our SunPower solar panels review.
SunPower history: Silicon Valley breakthrough
Stanford, California, 1985. Richard Swanson, an electrical engineering professor at Stanford University, experiments with solar cells in the lab. His tests go so well that he breaks a record for cell power efficiency. This inspires him to take a sabbatical and start a solar company that he names Eos. Then it will change its name to Sunpower and become a company with the most efficient solar panels in the world.
Richard Swanson is credited for creating Swanson's law,
an observation that solar cell prices decline by 20% for every doubling of solar panel industry capacity.
Almost 40 years later SunPower is still headquartered in Silicon Valley. Richard Swanson retired in 2012 but remains on the advisory board. The company provides solar systems and batteries, primarily for residential customers. Technically, SunPower doesn't make panels anymore since it spun off this part of its business in 2020 as Maxeon Solar Technologies in Singapore, but we'll look at their products as if it is one company.
SunPower technologies: Shingled design
American engineers use a wide range of modern technologies to drive up the output of their solar cells. One of the most impressive examples is shingled design.
To make a shingled solar panel, engineers slice cells into several strips and overlay them to create an electrical connection between them. It's a bit like laying shingles on a roof. A shingled solar panel doesn't need busbars or thin metal connectors. The panel gets a more uniform look and becomes more durable.
The best thing about shingled design is the way it improves the shading tolerance of a panel. Cells in a standard panel are connected in series which means that their performance depends on one another. Shingles are connected in parallel which makes them independent. In general, a shingled solar panel is 40% better at fighting shading than a standard panel.
Making shingled solar panels is difficult and expensive which is why so few manufacturers use this design — the only one that immediately comes to mind is Solaria.
SunPower Maxeon panels: Efficiency no matter the cost
SunPower Maxeon offers monocrystalline panels primarily for residential projects. There are high-output PV modules and bifacial panels but they aren't the main focus of a company. The brand also experiments with thin-film panels: for example, Maxeon Air is a highly anticipated flexible panel for home that should come out soon. Besides, SunPower designs solar systems and offers energy storage solutions
SunPower solar panels for home reach the highest conversion rates that are possible at the moment. The panels are just shy of 23% efficiency. If your space is limited and your energy needs are high, high-efficiency panels are what you need.
SunPower Maxeon always takes top places in rankings like "Top-10 solar panels" and "Best manufacturers". The customer reviews for their panels are overwhelmingly positive which shows how stringent quality control is in the company.
The quality and efficiency of SunPower Maxeon panels come at a cost. They are undoubtedly among the most expensive on the market, if not the most expensive ones. They cost from $1.5 to $3 per watt in the US before installation. When you include labor, shipping and equipment expenses, a system made with SunPower panels can cost $5 per watt or more.
SunPower warranties: Up to 40 years
The warranties from SunPower Maxeon deserve a special mention. The brands offer 40-year coverage for their products which is something that no one else does. The engineers claim that you are 100 times more likely to return a standard solar panel than the product from SunPower Maxeon.
The coverage includes repair, replacement or refund for any defective panel for 40 years, including the removal, shipping and installation. It also covers the performance of a panel: the panel retains 88.3% by the year 40. There are nuances though:
0.25%
year degradation rate
• The warranty applies for the SunPower Maxeon product line. SunPower Performance panels get a standard 25-year warranty for product and performance.
• The 40-year warranty is only available to customers in certain countries. Luckily, the USA is on this list. Customers in Austria, Czech Republic, Denmark, Luxembourg, Malta, Portugal and Sweden are also eligible.
• Your system has to be registered. Otherwise, it is covered by a standard 25-year warranty.
SunPower: Pros
What stands out the most about SunPower Maxeon panels — except everything? Here is the list of the most impressive advantages:
• The highest efficiency. SunPower panels are known for being the most efficient in the industry which means that they are able to convert more sunlight into electricity. By the end of 2022, the highest number they reached was a 22.8% conversion rate.
• Top-notch warranties. The brand offers a 40-year product and performance warranty for certain models and 25-year warranties for all the rest. The panels retain over 88% of their power output after 40 years.
• Amazing quality and great reputation. SunPower solar panels reviews are overwhelmingly positive and the brand is beloved by experts and customers.
• American design. The panels are assembled in Asia, but the design comes from American engineers. Besides, it's nice to know that the history of a company stems from Silicon Valley and the genius of Stanford professor.
• Wide product line. SunPower Maxeon offers panels primarily for residential installations, but there are also flexible panels, high-output modules for commercial installations, and bifacial panels. The company offers energy storage systems as well.
SunPower: Cons
What's not ideal about SunPower Maxeon panels? This list is going to be short but it can't be omitted:
High cost. Maxeon and SunPower solar panels prices are undoubtedly among the highest on the market, if not the most expensive ones. They cost from $1.5 to $3 per watt before installation.
Residential projects emphasis. While the company offers panels for commercial systems and mobile solar installations, it's not their specialty. As a result, Sunpower panels for these applications aren't as advanced and competitive as, say, high-output modules from Jinko Solar or flexible panels from Renogy.
SunPower solar panels overview: For home, business and travel
We're itching to take a look at the panels that SunPower Maxeon puts out on the market. Our engineer is going to join us and share his thoughts as well.
Vasilii Smirnov
Solar Installation Expert
SunPower panels are a dream for engineering nerds because there is so much work and creative decisions. You can find IBC cells that LG used as well, or shingled panel design that I've seen with Solaria panels, and many more. 

Maxeon 3 DC, 430 W — Put it on your house roof
Here is a basic panel for home installations from Maxeon SunPower with 430 W power output. Its conversion rate reaches 22.7% which puts it among the most efficient panels on the market. The panel comes with a 40-year warranty for product and performance and you can expect it to retain over 88% of its power by the year 40.
SunPower Performance 5 UPP Bifacial, 545 W — Use it for your business
A bifacial panel from SunPower Performance line is designed for large commercial installations. The front side is rated for 545 W output with 20.9% efficiency. The active rear side provides up to 20% bonus production. Shingled solar panel design increases the shading tolerance of a panel and contributes to the stylish appearance of the panel. The panel comes with a 25-year warranty for product and performance.
SunPower SPR-E-Flex-110, 110 W — Take it on the road
Here is a 110 W flexible panel from SunPower — a great choice for your camper or boat. The panel flexes up to 30° and it doesn't require drilling — you can fix it with the help of adhesives. The panel features back contact cells which increase the active area of solar cells and improve the look of a module. It is designed in the USA and assembled in France. The panel comes with a 5-year limited power warranty of 80% of the minimum specified power rating.
A1SolarStore recommends Maxeon 6 AC (E4), 440 W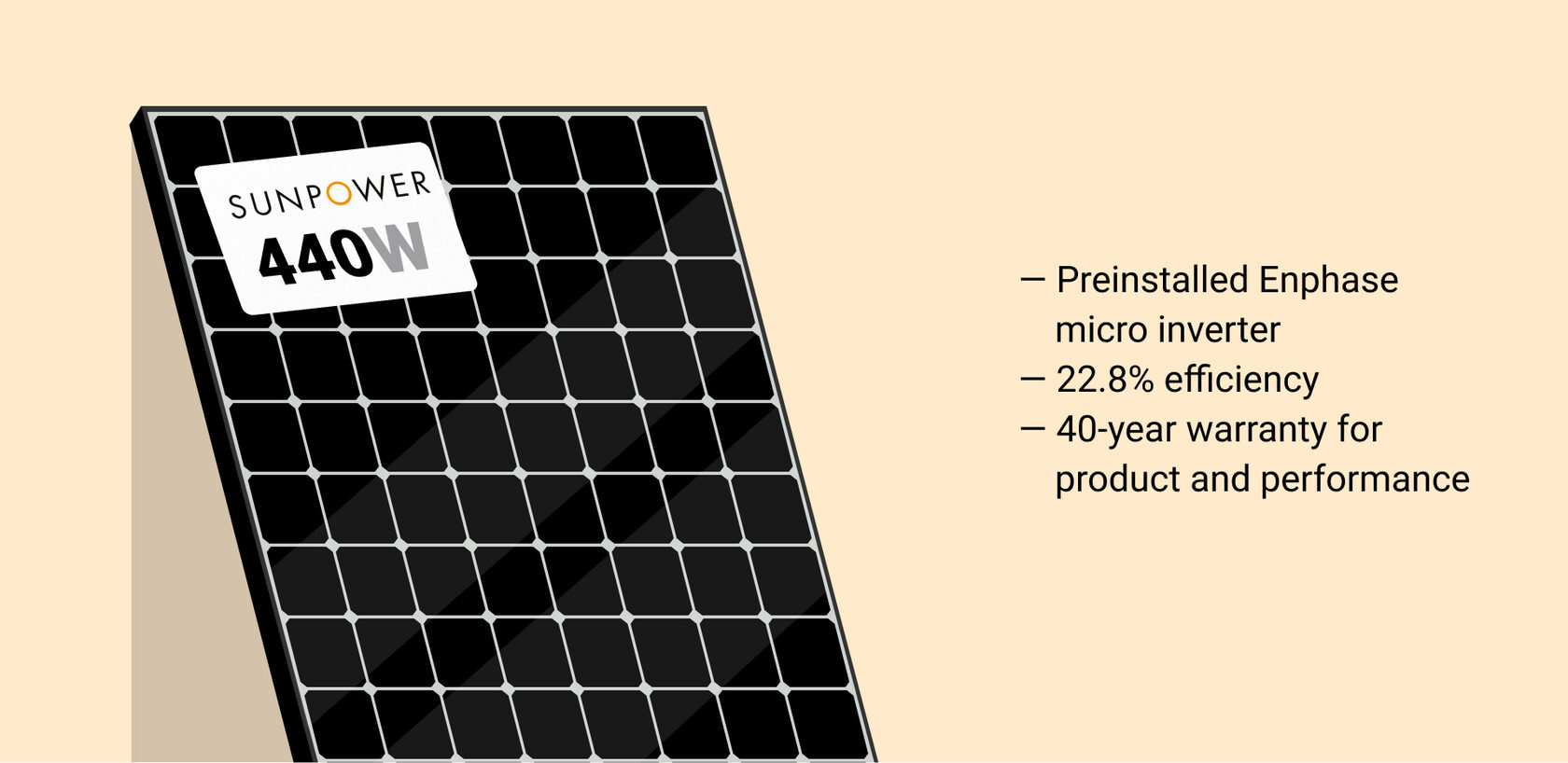 Here is an AC panel from SunPower Maxeon that comes with a preinstalled microinverter from Enphase. The panel provides 440 W of output with 22.8% efficiency.
AC panels are easier to install than standard DC modules. Micro inverters also provide better efficiency and lower power losses caused by shading, compared to string inverters. Their monitoring capabilities are also superior. The inverter from Enphase works at 96.5% efficiency. The panel comes with a 40-year warranty from SunPower for product and performance. There is also a 25-year product warranty for the micro inverter which is covered by Enphase.
A1SolarStore verdict: SunPower Maxeon solar panels are next level
We've looked at the history of SunPower, the technologies that it utilizes, the panels that the brand offers, and discussed their pros and cons. It's time to summarize everything in a list:
• SunPower is an American brand founded in 1985 by Stanford professor Richard Swanson.
• SunPower designs solar systems and energy storage systems. It spun off solar panel manufacturing as Maxeon Solar Technologies.
• American engineers utilize a variety of different technologies, such as IBC cells and shingled design, to maximize the production of their panels.
• As a result SunPower panels are the most efficient ones on the market, reaching up to 22.8% conversion rate.
• They are also among the most expensive on the market. SunPower panels can come at up to $3 per watt in the US before installation.
• Shingled design makes SunPower panels 40% more resistant to shading, compared to standard panels.
• Maxeon SunPower panels come with a 40-year warranty for product and performance for several models. The rest comes with 25-year warranties. The system has to be registered to be eligible for 40-year coverage.
• The best panels from SunPower Maxeon retain over 88% of their power output after 40 years in service.
• SunPower has an excellent reputation and is beloved by experts and customers.
• SunPower Maxeon offers panels for all kinds of projects, including flexible PV modules for mobile installations. Residential projects are their specialty.
What more is there to say? SunPower is an excellent brand. Yes, the panels are impressively expensive. But hey, when SunPower makes them this powerful, this high-quality, this good — they have a right to set the bar. With that, we end our SunPower solar panels review 2023 and we'll be back with more.
Compare SunPower to other popular brands:
☀️ Solar battle: LG Solar panels vs SunPower
☀️ REC solar panels vs Sunpower
☀️ Canadian Solar panels vs Sunpower panels
☀️ Trina solar panels vs SunPower
☀️ Panasonic solar panels vs SunPower
☀️ Mission Solar panels vs SunPower
☀️ Silfab solar panels vs SunPower
☀️ Aptos solar panels vs SunPower
Illustrations – Natalya Absalyamova
Stay tuned
Learn about the latest arrivals and discounts first!