Panasonic
Solar reviews
Panasonic solar panels review 2023: Old and gold
26 Jan 2022
12 min
Beginner
Panasonic electronics are famous all around the world. Most of us probably have something at home from Japanese engineers: a TV, a microwave, a washing machine… But what about solar panels? Panasonic makes them as well. Well, are they any good? Let's see! In this article we'll take a look at the product of one the oldest brands in the industry: here's a Panasonic solar panels review for you.

Located in Osaka, Japan


Entered solar business
in 1975


$61.9 billion
annual sales

259,000 employees

$64.6 billion in assets

27th in Forbes List of the World's Top Regarded Companies (2019)
In the beginning of 2021 Nikkei, a Japanese economics newspaper, disclosed that Panasonic plans to stop solar panels production in 2022. According to the source, Japanese engineers just can't keep up with their Chinese rivals in this field. Panasonic itself didn't confirm the news, but didn't deny it either, stating they consider changing "the management structure of the solar business".

In 2020 Panasonic winded down solar manufacturing in the US which may be the sign of things to come. If the company indeed decides to leave the market, perhaps, it might sell the remains of their panels for lower price.
HIT technology makes Panasonic panels stand out
One of the most famous features of Panasonic modules is Heterojunction with Intrinsic Thin (HIT®) layer technology, patented in 1997. It is an improvement on the classic design of a cell with ultra-thin layers of silicon between the wafer and the glass. It reduces the energy losses at the boundaries of a cell which substantially improves the performance of a panel at high temperatures.
Lower temperature coefficient makes Panasonic HIT modules great for hot areas
The temperature coefficient of Panasonic HIT panels, which stands for how much energy a panel loses on hot days, is only at -0.258%/°C, when with most panels it varies between -0.3%/°C and -0.5%/°C. For example, a panel with a temperature coefficient of -0.4%/°C is going to lose around 40W of output on a sunny summer day somewhere in Phoenix. Panasonic HIT module in this case loses only around 25W.
HIT technology, however, doesn't give Panasonic panels the highest efficiency overall. On average conversion rates of Panasonic panels range from 19% to 21%: good, but these are not the top numbers on the market.
Panasonic panels are also quite durable and resistant, thanks to the 40mm aluminium frame. Most of them can withstand 5400 Pa pressure which is comparable to 210 mph wind. Such a module is capable of surviving a tornado. A special drainage system reduces the stains from melted snow and rain.
Panasonic modules can withstand category 5 hurricanes
When it comes to the cost, Panasonic panels can be quite expensive: around $1-$1.2 per watt. Japanese electronics are often costly in general, because of how modern and high-quality they are. Besides, Panasonic is a famous brand and that makes up a big part of the price. They are not the most expensive, but they would probably make the Top-5 list along with REC and Sunpower.
92%
of rated power output after 25 years
Panasonic offers a 25 year both product and performance warranty for all of its panels. The modules show amazingly low degradation rates: they lose only 0.26% of power per year while most conventional panels lose 0.7%-0.8%. Panasonic panels end up with more than 90% of their initial power output after 25 years. These are among the best numbers in the industry in that regard.
Panasonic has offices and representatives all around the world everywhere so getting customer's support is easy. Most likely you'll never need it, since the failure rate of Panasonic panels is very low. For example, among 4 million modules supplied in Europe, only 170-180 panels were malfunctioning.
Panasonic: pros
So what's especially good about Panasonic? Let's consider all the advantages of the Japanese brand.
• High quality. After 50 years in business, the Japanese company has built a solid reputation behind themselves. You are guaranteed to get a quality product with great 25/25 years warranties for product and performance. Degradation rates are exceptionally low – after 25 years you still have more than 90% of initial power output.
• Unparallel at high temperatures. HIT technology allows Panasonic panels to have the temperature coefficient of -0.258%/°C, which is one of the lowest in the industry. If you live in Arizona or Texas, Panasonic panels are always a safe choice.
• Better shading tolerance. Some Panasonic models come with 4 bypass diodes in construction whereas most competitors only offer 2 or 3. Additional bypass diodes make Panasonic panels much less vulnerable to shading.
• Great design. Panasonic Black Series show that Japanese engineers put a lot of thought into the appearance of a panel.
• Easy-to-install AC modules. You can find panels with pre-installed microinverters in the Panasonic product line – something that not every manufacturer offers. However, there are no polycrystalline and thin-film panels for sale. 
Panasonic: сons
Disadvantages are not as easy to find as advantages, but they must be listed to make our review unbiased.
• Average efficiency. While Panasonic panels are modern, their efficiency is not super high, considering the cost. You can find panels with a higher energy conversion rate for a smaller price.
• High price of panels. Panasonic panels can cost around $1-$1.2 per watt. These are not the most expensive PV modules on the market – LG and REC occupy the top – but still they are up there.
• Panasonic might leave the solar market. In the beginning of 2021 Nikkei newspaper disclosed that Panasonic plans to cease their solar panels production in 2022. While it shouldn't hurt the warranties and the customer support, it might mean we won't have new Panasonic panels anymore. Potentially, it can mean that the prices for their modules will drop soon.
Panasonic solar panels overview: premium-class residential modules
Let's pass on to the actual product that Panasonic puts out on the solar market. We have asked our engineer to take a look at three models and highlight their features. Here is what he thinks.
Panasonic 370W EverVolt Black Series — Beautiful power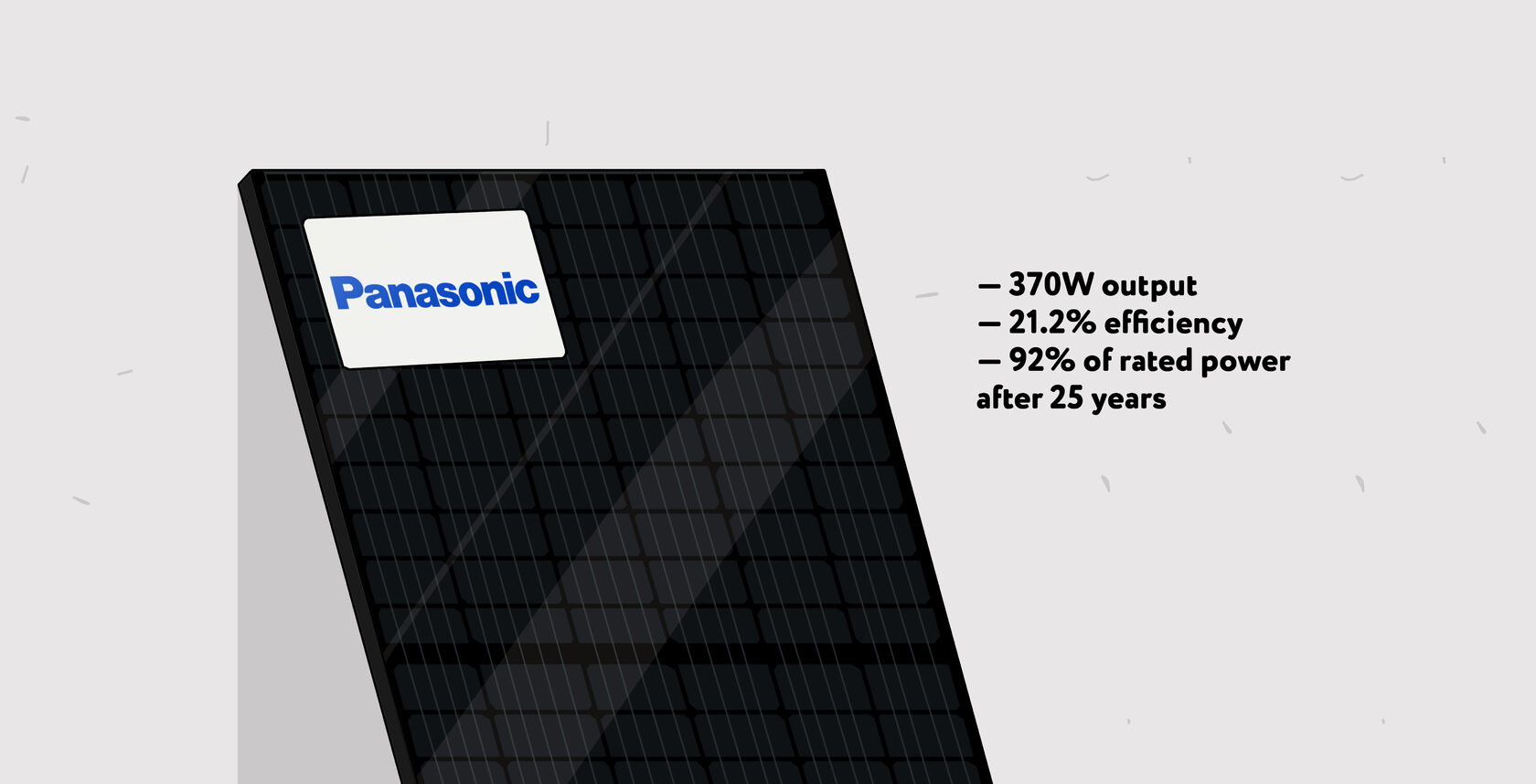 Panasonic 120 cell Evervolt module is suitable both for commercial and residential installations with 370W of power output. It's part of a Black Series – notice the amazing design of this model. It shows a superb efficiency of 21.2%. This particular model has three bypass diodes. With 0.25% of annual power loss you end up with at least 92% of the rated power output in year 25. Half-cut cells paired with HIT technology reduce power losses and keep the output high even when it's hot. The model comes with a 25 year warranty for performance, product, parts and labor.
Panasonic 340W HIT — Don't fear the heat
Panasonic 96 cell HIT panel is a good choice both for commercial and residential use for a competitive price. It comes with 4 bypass diodes to ensure a great shading tolerance. The model displays 20.3% efficiency. HIT technology ensures the best performance at high temperatures. The design may look pretty generic, but otherwise it's a great panel to use in a hot area.
Panasonic 330W AC Module With Enphase IQ7X — No inverter needed
AC panels aren't that widespread on the solar market and who, if not Panasonic, would be selling them? Panasonic 330W 96 cell panel with a preinstalled Enphase microinverter is special in a way that produces AC current on the spot. It means that you don't need an inverter in your system — just plug your panels directly into the electric panel of your house. Microinverters are durable and efficient, and last for the similar time that solar panels do. Four bypass diodes substantially reduce the losses caused by shading of a panel.
That's a great choice for a residential grid-tie system that guarantees a very easy installation. However, pairing these modules with a battery bank is tricky, since most batteries need DC. You can find AC batteries on the market though. Obviously, the panel is more expensive than most, since you are paying for a microinverter as well.
Panasonic solar panels are designed for residential use
After looking at these examples, it would be safe to say that Panasonic panels are aimed at residential customers. There aren't any super-powerful 400+W modules in the product line of Japanese company, that are so popular in commercial solar. Besides, the price per watt probably makes it hard to go for a large-scope installation with Panasonic.
When choosing a Panasonic panel, pay attention to efficiency: the higher it is, the better. Notice the number of bypass diodes. A shaded cell decreases the output of a panel by 33% with three diodes and only by 25% when there are four of them. HIT technology makes every Panasonic panel excel at high temperatures so there is no need to worry about that. Of course, pay attention to the design of a panel – you want a great look, don't you? Finally, beware counterfeit products: Panasonic is one of the most respected brands in the industry, so some may try to sell you their fakes as a Japanese product.
A1SolarStore recommends Panasonic 325W 96 cell solar panel
The bestseller, Panasonic 325W panel combines stylish look with high-tech design of a panel and comes at a low price. It's great for home usage, suitable for commercial installations and you can buy them for your RV or a boat as well. All-black panels look great on anything. The module comes with 4 bypass diodes which is superb for dealing with shading problems. HIT technology is there to help with high temperatures – the temperature coefficient is at -0.258%/°C. Add to that 25/25 warranty for product and performance, low degradation rate and you have a great model all around. Currently we have it in our stock for $328, which is a fair price for a Panasonic panel.

Our verdict: They are great while they are here
To round up our Panasonic solar panels complete review, let's list the most important points about the brand and their product:
• Panasonic is a highly respected brand with a 100-year history and 50 years of experience on the solar market.
• Their product is always top quality and is backed up with a 25/25-year warranty. The failure rate of Panasonic panels is impressively low.
• Their panels are most famous for Heterojunction with Intrinsic Thin (HIT) layer technology, which gives them the best efficiency at high temperatures.
• Overall, the efficiency of their panels ranges from 19% to 21% – good, but not the best.
• Panasonic panels are designed mostly for residential use – basically, there are no 400+W modules in their product line.
• Several models in Panasonic's product line have 4 bypass diodes which makes them exceptionally good at dealing with shading.
• The 40mm aluminium frame makes panels very durable and capable of withstanding 5400 Pa pressure.
• Panasonic Black Series shows that the company truly cares about the appearance of their panels.
• Panasonic panels are on the more expensive side of the solar market.
Overall, we would say that Panasonic panels are great. It's always a quality product and a safe and reasonable choice for a hot area where HIT technology truly gets a chance to shine. It's sad if Panasonic decides to quit the solar market – their panels are going to be missed. With that, we end our Panasonic solar panels 2022 review. Stay tuned for more of these!
Compare Panasonic to other popular brands:
☀️ Panasonic solar panels vs SunPower
☀️ Panasonic solar panels vs Solaria
☀️ Panasonic solar panels vs Tesla
☀️ Panasonic solar panels vs Silfab
☀️ Panasonic solar panels vs LONGi
☀️ Panasonic solar panels vs Mission Solar
☀️ LG vs Panasonic solar panels comparison: Asian giants
☀️ REC vs Panasonic solar panels
☀️ Canadian Solar panels vs Panasonic panels
Illustrations – Marina Fionova
Stay tuned
Learn about the latest arrivals and discounts first!