Solar reviews
LG
LG solar panels review 2023: Life was good
26 Jan 2023
10 min
Beginner
LG solar panels were among the best for many years. But the fierce competition on the market forced the South-Korean company to choose: either to downgrade the quality or abandon PV modules production completely. LG chose the latter. We won't see new LG panels maybe ever, but the remnants are still up for sale. Let's see what was so special about them in our LG solar panels review.

A few words about LG company
LG is a South Korean multinational electronics company that manufactures a wide range of consumer electronics and home appliances. It was founded in 1958 and is headquartered in Seoul. The corporation has over 250,000 employees all over the world.
The company began research and development efforts in the area of solar power in 1985. The engineering team made the first LG solar panel in 2008 and since then the mass production of PV modules began. The company won the Intersolar Award in 2013, 2015 and 2016 for its technological innovations. That was until 2021 when the first news about LG leaving the market appeared.

The time of sunset for LG solar production
LG Electronics officially announced in February 2022 that it would stop producing and selling solar panels in order to focus on other business areas. The company stated that it would continue to provide technical support and service to existing customers, but would no longer be developing new solar products or taking on new projects.
The decision to exit the solar panel business reportedly came after LG's solar division struggled to compete with larger and more established players in the industry, such as Chinese manufacturers. LG also faced increasing pressure from falling prices for solar panels and the shift towards more efficient and lower-cost technologies. The company will continue to develop its energy storage systems.
What made LG panels so special — and expensive
LG engineers strived to make their panels as modern and high-tech as possible. An example of their efforts would be an IBC cell which they used in their NeoN R panels.
A standard cell has 5-6 large ribbon busbars which are thin metal strips that conduct the electricity. The problem with standard busbars is that they shade the cell slightly. Interdigitated back contact cells have a grid of 30 or more conductors on their backside instead, and they don't get in the way of solar production at all.
Another innovation that the LG team experimented with was N-type cells. A silicon wafer is treated with chemicals so it produces current. A P-type cell is "doped" with boron and an N-type solar cell uses phosphorus. P-type solar cells are dominant on the market because they are cheaper, but N-type cells are more efficient and lose less power in the first year of operation.

Modern design made Korean modules efficient and long-lasting. Unfortunately, they have also driven LG solar panels prices up by a lot.
LG solar panels: Specifications and pricing
up to 22.3%
maximum efficiency
Since LG used the most modern technologies that were available, Korean panels were active competitors for top efficiency numbers on the market. Neon R, for instance, was the second most efficient panel in 2022 reaching 22.3% conversion rate. Overall LG products show the best efficiency numbers on market which vary from 20 to 22.3%.

The quality of LG solar panels has always been high. One of the reasons for it is that LG never outsourced its production. All of their panels were made in their own in-house manufacturing facilities in Gumi, South Korea, and Huntsville, Alabama.
25-year warranty
for labor, product and performance
LG provides a 25-year warranty on all of their solar panels, covering performance, labor and materials defects. The panels must be installed by an LG-certified installer though. After 25 years, LG panels are guaranteed over 90% of initial performance. This is one of the lowest degradation rates in the industry on par with REC and Panasonic.
The cost of LG solar panels can range from $1.3 to $2 per watt before installation. Unfortunately, the sophisticated design of solar panels and the brave decision to never outsource the production put LG panels among the most expensive ones on the market.
LG panels: Pros
We've looked at the specifications of LG modules closely. Now let's list down their strong and weak sides separately. Let's start with the strong ones:

• High efficiency. LG solar panels can convert more sunlight into electricity than PV modules of most brands. NeoN R reaches 22.3% efficiency — in 2022 only Sunpower's Maxeon 3 could do better.
• Quality. Solar panels are manufactured in the US and Korea and customers always highlight how well they are made. The panels are designed to withstand harsh weather conditions, such as high winds and heavy snow loads, making them suitable for a variety of climates.
• Warranty. LG offers a 25-year warranty package on its solar panels that cover the product, power output, and labor. The solar panels must be installed and maintained by a certified professional though, which may limit the choice of installers and increase the cost of installation.
• Variety of options. LG offers a range of solar panel options that are suitable for different types of applications, such as residential, commercial, and utility-scale solar power systems.
LG panels: Cons
Amazing quality and impeccable performance come at a cost. Here are the drawbacks of LG panels:

• Cost. LG solar panels are among the most expensive PV modules on the market.
• Limited availability. LG has left the market — there won't be any new panels, at least for now.
LG solar panels overview: for home and business
Now that we've looked at the advantages and disadvantages of LG products, it's time to discuss the actual panels. As usual, our engineer will take a look at the panels and say what he thinks.

LG NeON 2 — Solar bestseller
This is LG's flagship solar panel and is known for its high production and durability. It has 60 N-type monocrystalline cells which lose less output in their year in operation and show higher efficiency numbers. A 385 Watt model shows a 21.2% conversion rate. NeON 2 had many variants over the years, including bifacial and all-black panels.
LG NeON R ACe — Top performer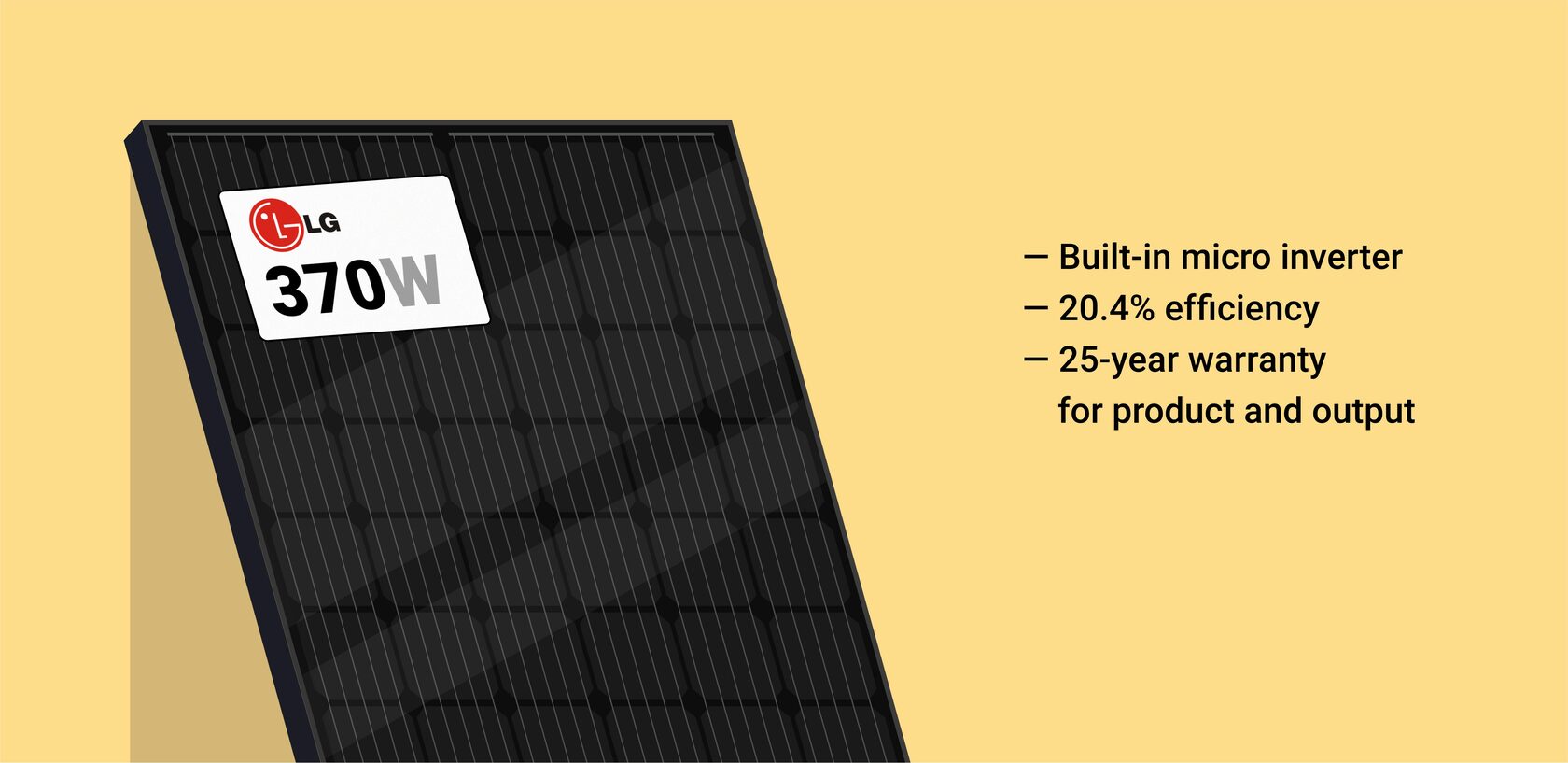 The NeON R was an improvement over the NeON 2 classic. LG engineers added IBC cells which improve the production of a panel. All-black LG 370W solar panels are designed for residential use and are known for their sleek and modern design. These are AC panels: each module has a built-in microinverter, which allows for easy installation and better production.
LG NeON H series — Packs a punch
H series from LG are mostly panels for small commercial installations. All panels in this series provide over 400 watt output and feature a half-cut cell design for better shading tolerance. For example, a 450 watt PV module shows 20.5% efficiency. It has 144 half-cut N-type cells and retains over 90% of its output after 25 years.
A1SolarStore recommends LG NeON R 435W A6 Series
This is an AC variation of the Neon R LG 435 solar panel. AC panels are easier to set up and a micro inverter as a built-in part of each module provides better efficiency and shading protection. The downside of AC modules is the higher cost. It's also harder to repair them if anything goes wrong.
The model from LG has 21.9% efficiency — well above the market's average. The panel is resistant to PID, salt, acid, and ammonia, and it can withstand up to 5400 Pa mechanical load on the front and 4000 Pa on the back.
A1SolarStore verdict: Sad to see them go
Our LG solar panels review 2023 is nearing the end. Let's summarize what we've learned about the brand and its product.

• LG announced in 2022 that it would stop producing and selling solar panels in order to focus on other business areas. The company will continue to provide technical support and service to existing customers who have installed LG's solar panels.
• IBC cells and allow LG panels to reach top efficiency numbers — up to 22.3%. N-type cells make their modules last longer.
The panels were made in Korea and the US. The quality of LG modules has always been high.
• LG solar panels are among the most expensive on the market.
• Panels come with 25-year warranties for labor, product and performance. The system has to be installed by a certified contractor.
• The panels retain over 92% of their power output after 25 years in service.
Vasilii Smirnov
Solar Installation Expert
The fact that LG solar panels will soon no longer be with us is sad — they were a special one-of-a-kind product. Always high quality, always great production levels. At least they still make batteries and they make them well.
The solar market is still young and it always changes. Who knows — maybe LG will decide to come back after a few years. But as of now, we say goodbye. Are there any LG panels left for sale by the time you're reading this review? Come and see for yourself.
Compare LG to other popular brands:
☀️Solar battle: LG Solar panels vs SunPower
☀️LG Solar panels vs REC: Who's better?
☀️LG vs Panasonic solar panels comparison: Asian giants
☀️LG solar panels vs Q CELLS comparison: Best from Korea
☀️LG solar panels vs LONGi Solar: side-by-side comparison
☀️LG Solar panels vs Solaria: comparison
☀️LG Solar panels vs Tesla Energy
☀️LG solar panels vs Silfab: A1SolarStore comparison
☀️LG solar panels vs Aptos Solar
☀️LG solar panels vs Hyundai solar panels: Battle of two Koreans
☀️LG Solar panels vs JA Solar panels
☀️LG solar panels vs Jinko Solar
☀️Trina solar panels vs LG
Illustrations – Natalya Absalyamova
Stay tuned
Learn about the latest arrivals and discounts first!